Will nonwovens bring textiles back to prominence in North Carolina?
By KEN ELKINS kelkins@bizjounals.com Charlotte Business Journal
Posted Wednesday, July 20, 2016, 2:59pm EDC  Updated Wednesday July 20, 2016, 3:14pm EDT
N.C. Gov. Pat McCrory likes to talk about the "Carolina Comeback." It's a slogan in his reelection campaign.
He pulled the phrase out again Wednesday, saying the "Carolina comeback continues" with the dedication of a $13 million, 62-employee Carolina Nonwovens plant in Maiden.
"A lot of people gave up on manufacturing," McCrory told the 150 attending the event. That, he says, was the wrong decision.
"This is the strength of America," he says, speaking about manufacturing and operations like the Maiden textile plant.
Others at the event talked about how nonwovens — the textile materials made from processes other than weaving and spinning — may just be what will bring North Carolina back to some prominence in textiles.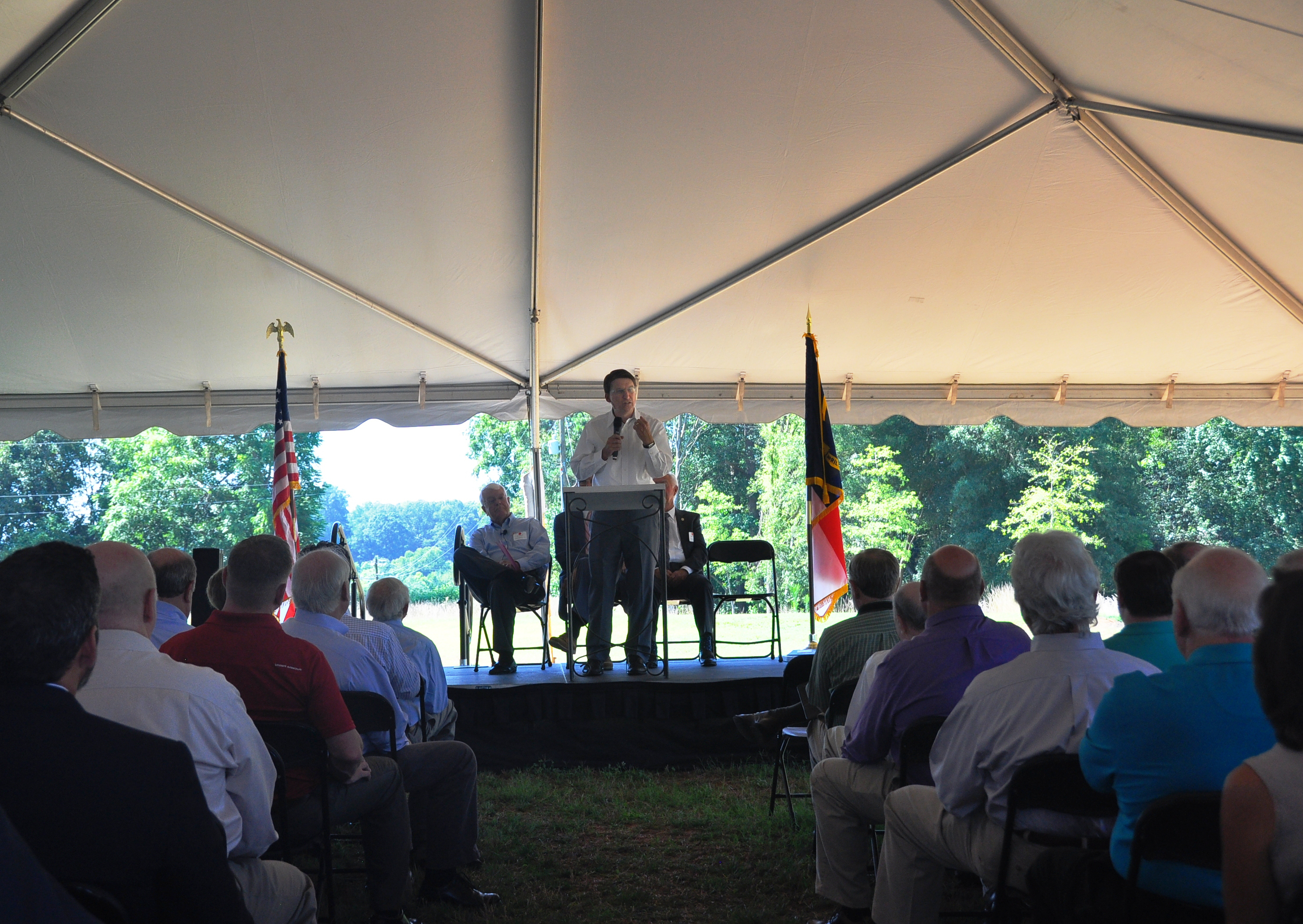 Behnam Pourdeyhimi, associate dean at the College of Textiles at N.C. State University and a new board member for National Spinning Co. Inc., says North Carolina already has prominence in the growing world of nonwovens. All of the major international nonwovens producers have plants in North Carolina.
"For us, nonwovens have been a big deal for a while," he says, speaking at the Carolina Nonwovens event.
National Spinning, which owns Carolina Nonwovens, got into the business in 2012 when it bought a nonwovens plant in Lincoln County. That facility, including one of its production lines moved from the old plant, was relocated to a new, 100,000-square-foot building in Maiden.
Although it's been in production for about four months, Washington, N.C.-based National Spinning chose today to invite Gov. McCrory, local government officials, employees, customers, suppliers and others to the dedication.
National Spinning Co. was primarily a yarn spinner before buying the nonwovens plant. Within three years of buying the Lincoln County operation, CEO Jim Chesnutt realized he needed to double production to meet demand for his new products.
Carolina Nonwovens makes insulation primarily for automobiles — and the market is booming. Nonwovens are also used in health care and consumer goods, from disposable medical gowns to sanitary napkins, although National Spinning doesn't supply those markets.
Chesnutt says the problem with insulation nonwovens is they are bulky and expensive to ship. So they need to be produced close to the auto plants and truck factories where they are used.
He chose to build a new building in Maiden, about 25 miles from the plant's former location in Lincoln County's Indian Creek Business Park, south of Lincolnton.
Chesnutt agrees that nonwovens may help to bring textiles back to prominence in North Carolina. They've done a lot toward that goal already.
"The textile business is very healthy," says Chesnutt.
Pourdeyhimi, who is also executive director of The Nonwovens Institute, says nonwovens, which are made by automated processes that require fewer employees than traditional textiles plants, employ more workers than you would think. Once the jobs needed for processing of raw materials for nonwovens, employment numbers are close to comparable, he says.
Today's dedication was about the growing nonwovens business. The two production lines in the Maiden plant were shut down from their usual 24/7 production scheduled for tours and speeches.
Jim Booterbaugh, president and COO of National Spinning Co., notes that the Maiden nonwovens plant was built on the exact site of the J.W. Abernathy Plant, a yarn facility owned by Carolina Mills Inc. that was shuttered in 2006 and the building was razed a few years later.
The fact that the nonwovens plant was built on the footprint of the yarn plant is "good karma" for the plant and the industry, Booterbaugh says.
SEE ADDITIONAL COVERAGE:
Governor McCrory Celebrates Carolina Nonwovens Grand Opening in Maiden (NC Governor's Office)
Carolina Nonwovens opens Maiden factory, creates 35 new jobs (Charlotte Observer)
Carolina Nonwovens Announces Grand Opening of New Facility (Textile World)
Governor McCrory welcomes Carolina Nonwovens in Maiden (WBTV)
McCrory announces new local jobs (WCNC)