Catawba County is ideal for those who have a sense of adventure and a heart for hard work:
For people with a passion for making something of themselves, their community and the future. We are actively crafting a living and a life rich in both tradition and promise.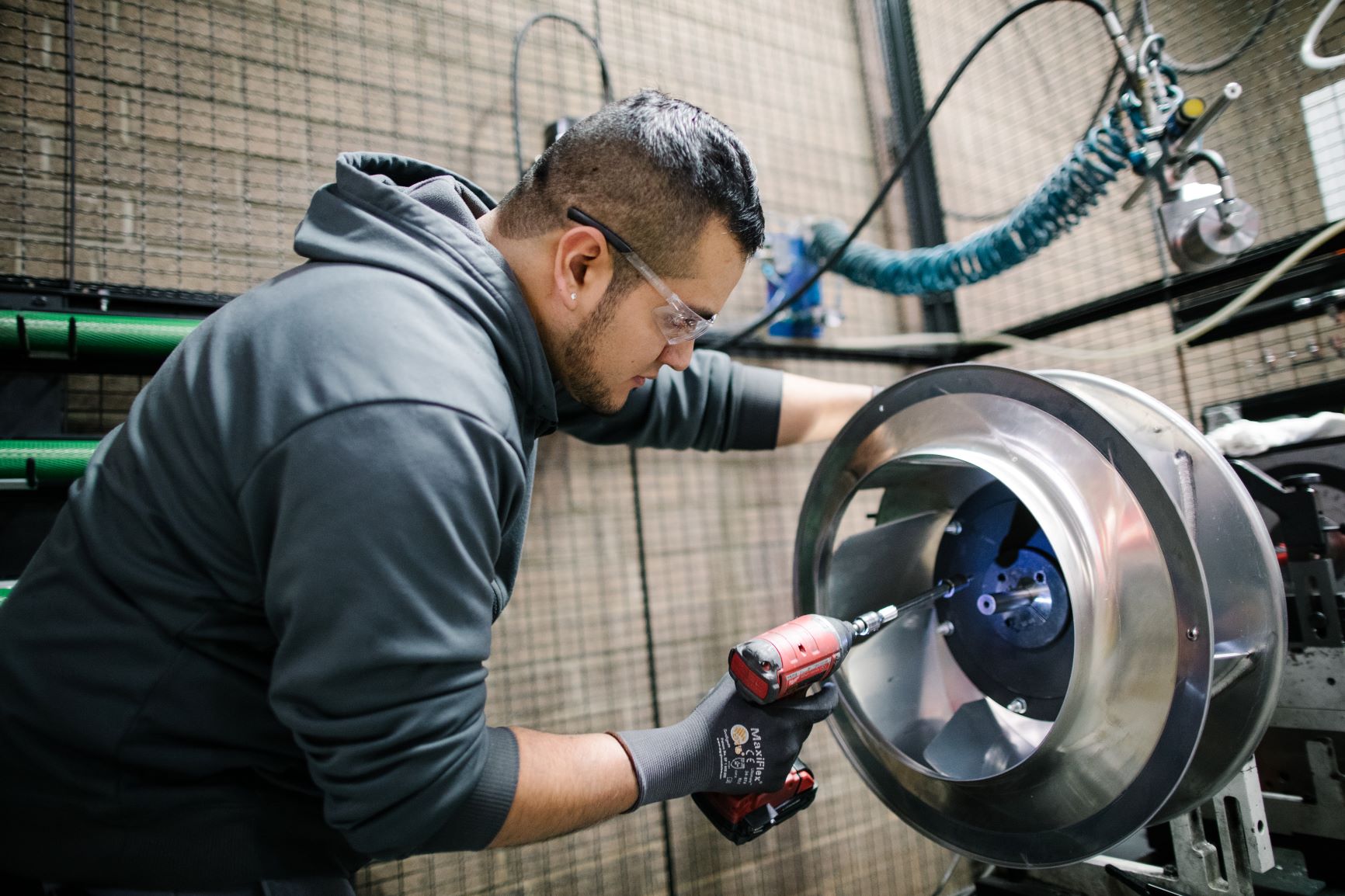 Our work ethic is the essence of our community:
If it can be made, we'll make it. If we can improve it, it'll get better. And if we can do it together, it'll be the best it can possibly be.
We appreciate where we've been and look forward to where we're headed, and we approach life with warm hospitality, humility, strong loyalty to family and community and a fierce commitment to making a difference for the people who live and work here.

Making is about our legacy as makers and doers. We make things happen.
Living is all about our quality of life. We enjoy our location, our amenities, and our people.
Better is about our "can do" spirit. We collaborate toward making a difference.
But don't just take our word for it.

Featured Catawbans share their unique stories about how they've crafted a good life for themselves, their families, and others in Catawba County.
---
Catawba County is the hub of commercial/retail sales in the Greater Hickory Metro area which generates nearly $5 billion in annual retail sales. Some of the finest furniture shopping in the world can be found in the Hickory Furniture Mart and the other area retailers. Catawba County is also home to the Hickory Motor Speedway, known as the "Birthplace of the NASCAR Stars" and the South Atlantic League 2015 champions, the Hickory Crawdads. The YMCA of Catawba Valley offers numerous athletic, daycare and health and fitness opportunities for all ages at several facilities in the county. The Hickory Community Theatre, The Green Room Community Theatre, Hickory Arts, the Hickory Music Factory, the Hickory Museum of Art, the Catawba Science Center, and the Western Piedmont Symphony are only a few of the cultural organizations that call Catawba County home.
Sports & Recreation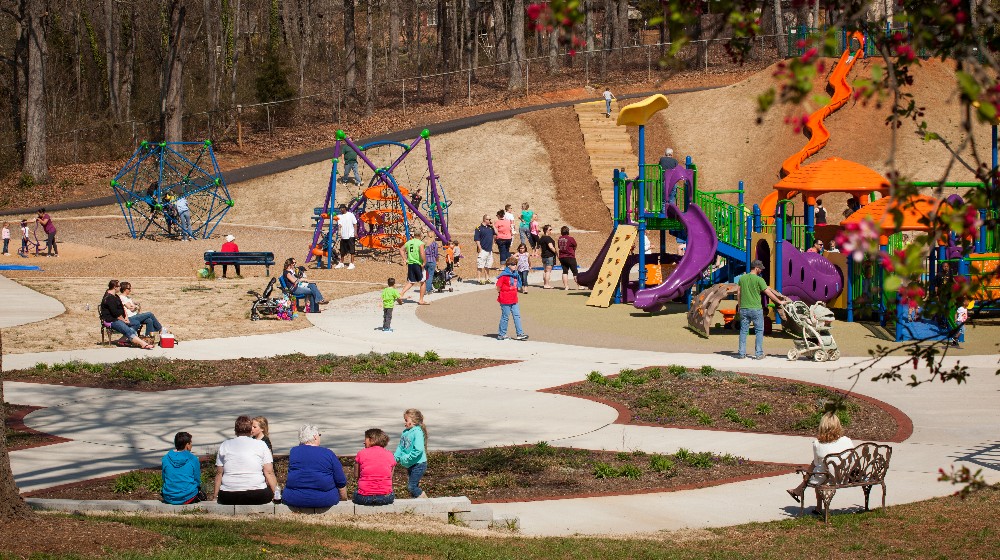 Catawba County offers a wide range of sports and recreation for enthusiasts of every kind. Rock Barn Golf & Spa was home to the Greater Hickory Classic, a PGA TOUR Champions Tour Event. Other golf courses include the Catawba Country Club, and Lake Hickory County Club, among others. The Hickory Motor Speedway hosts the NASCAR Dodge Weekly Series and is known as the "Birthplace of the NASCAR Stars". The 2015 South Atlantic League Champion Hickory Crawdads (Class A Affiliate-Texas Rangers) offer minor league baseball at its best. The YMCA of Catawba Valley offers numerous athletic, daycare and health and fitness opportunities for all ages at several facilities in the county. There are several active running and biking clubs. Additionally, the Catawba River provides many opportunities for boating and other recreations. Catawba County is also home to numerous parks that include Bakers Mountain Park and Riverbend Park, as well as the recently opened Mountain Creek Park. This 606-acre park features an extensive 18-mile hiking, biking and trail running network and a variety of other outdoor amenities on the shores of Lake Norman. Mountain biking is at the heart of Mountain Creek, which showcases trails built by renowned mountain bike trail architecture firm Elevated Trail Design. The Zahra Baker All Children's Playground in Hickory is designed to be accessible to children of all abilities and includes a wheelchair accessible tree house.
Arts & Culture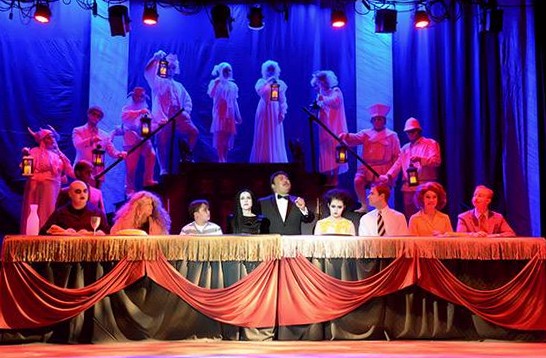 Home to two community theatres, a college theatre, a symphony, a choral society, and a first class art museum, Catawba County provides an array of artistic and cultural entertainment. The Hickory Community Theatre is the third oldest, and one of the largest, community theatres in North Carolina. In addition to its productions and educational classes, the Hickory Community Theatre also provides entertainment opportunities ranging from karaoke to a series of movie nights. Like the Hickory Community Theatre, The Green Room Community Theatre offers a range of plays and musicals as well as educational classes and other opportunities for youth. Other groups offering instruction and performance opportunities include Hickory Arts, and the Hickory Music Factory. The Lenoir-Rhyne University Playmakers offer productions each year as well. The Western Piedmont Symphony, a professional orchestra of 60+ members, presents an annual season of symphonic music featuring guest artists who are rising stars of classical music. The Western Piedmont Symphony is also well noted for its outreach to students. Each year, the Chamber Orchestra (a smaller version of the full orchestra) goes "on the road" to bring concerts to nearly 30,000 public, private and home-schooled children in four Hickory metro area counties. The Hickory Choral Society, a volunteer organization of some 110 voices, presents three concerts annually including a Christmas Concert. The Hickory Museum of Art is the second-oldest art museum in North Carolina and the first museum in the Southeast to collect American art. The museum offers exhibitions, lectures, art classes, films and outreach programs to schools and other groups. Additionally, Catawba County offers a Science Center (which includes an aquarium and a planetarium), a History Museum, several concert associations, a youth symphony and a wide variety of musical groups ranging from Barbershop to Bluegrass.
Religion
There are over 200 congregations in Catawba County representing a variety of Jewish, Protestant, Catholic and other beliefs. All major protestant religions are represented with the largest number of adherents belonging to the Southern Baptist Convention, the United Methodist Church the Evangelical Lutheran Church in America and the North American Lutheran Church. In addition, there are numerous religious schools available in Catawba County encompassing grade ranges K-12.
Retail & Shopping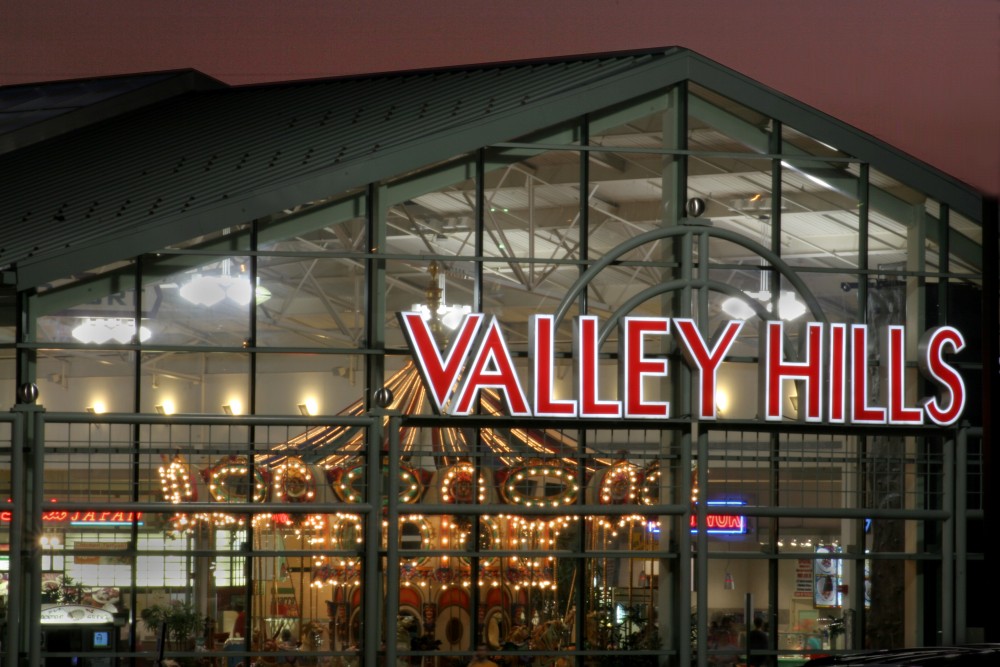 Valley Hills Mall
1960 Highway 70 SE, #244
Hickory,North Carolina 28602-5107
828.328.2436
Mon-Sat: 10:00 am - 9:00 pm
Sun: 1:00 pm - 6:00 pm
Enjoy great one-stop shopping and a family-friendly environment at over 90 specialty stores and carts, 11 food court retailers, and four department stores, Belk, Dillard's, and JC Penney. Valley Hills Mall has a 28-foot antique carousel in the food court, a Speedway Soft Play Area for kids, carpeted, soft seating areas, family restrooms with a nursing facility, and two parking decks available to provide a pleasant customer experience.
Hickory Furniture Mart
2220 Hwy 70 SE
Hickory, NC28602
phone 800.462.MART
phone 828.322.3510
Mon-Sat: 9:00am – 6:00pm
Hickory Furniture Mart presents a complete selection of domestic and imported furniture and furnishings. Largest of its kind in the nation, the Mart complex features 100 factory outlets, stores and galleries selling more than 1000 well-known manufacturing lines such as Broyhill, Thomasville, Lane, Henredon, La-Z-Boy and others. In addition to the four-level main building, the complex includes a hotel, restaurant, coffee shop, shipping service, lounge and tearoom. Throughout our idea-rich showrooms, attractively discounted prices are offered on bedroom, dining room, living room, office, family room and patio furniture, as well as rugs, window coverings, lighting, art, antiques and a huge selection of accessories
Other Major Retailers include:
A. C. Moore, Academy Sports, Babies R Us, Barnes & Noble, Bed Bath & Beyond, Best Buy, Dicks Sporting Goods, H. H. Gregg, Hobby Lobby, Home Depot, Kohl's, Lowe's Home Improvement, Michael's, PartyCity, Petco, PetSmart, Ross Dress for Less, Shoe Carnival, Shoe Show, Steinmart, T J Maxx, Target, Toys R Us, Wal-Mart
Restaurants
Catawba County's more than 100 restaurants represent an extremely wide variety available to suit any taste and budget. Fast Food restaurants include McDonalds, Bojangles, Kentucky Fried Chicken, Hardee's, Taco Bell, Jack in the Box, Cook Out, Subway, Chik-fil-a, Burger King, Wendy's, Zaxby's and Sonic. Other restaurant styles include Steak, Seafood, Cafeteria-style, Chinese, Mexican, Thai, Italian, Greek, Jamaican, and Vietnamese.
Housing Availability & Costs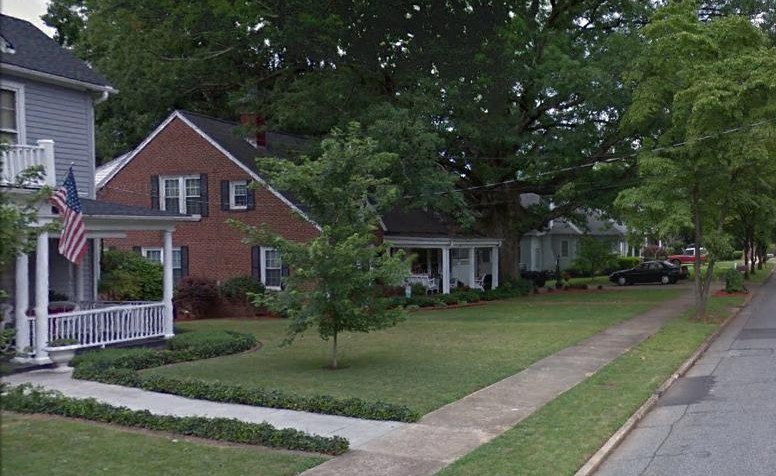 Catawba County offers a wide range of housing choices. From newly constructed subdivisions, townhomes, and condos to historic homes to a variety of apartment choices, there are numerous available housing options. According to the US Census Bureau's 2019 American Community Survey, the median home value was $194,900 and the median rent was $813. 68.9% of the population owned their homes, while 31.1% of the population rented.
Accommodations
With 20 hotels and 3 Bed and Breakfasts,Catawba County has a variety of accommodations to meet any taste and budget. Over 1800 rooms are available at hotels including the Choice Hotels Family, the Marriott Family, Jameson Inn, Hampton Inn, Days Inn, Red Roof Inn, and La Quinta Inn & Suites among others.
Health Care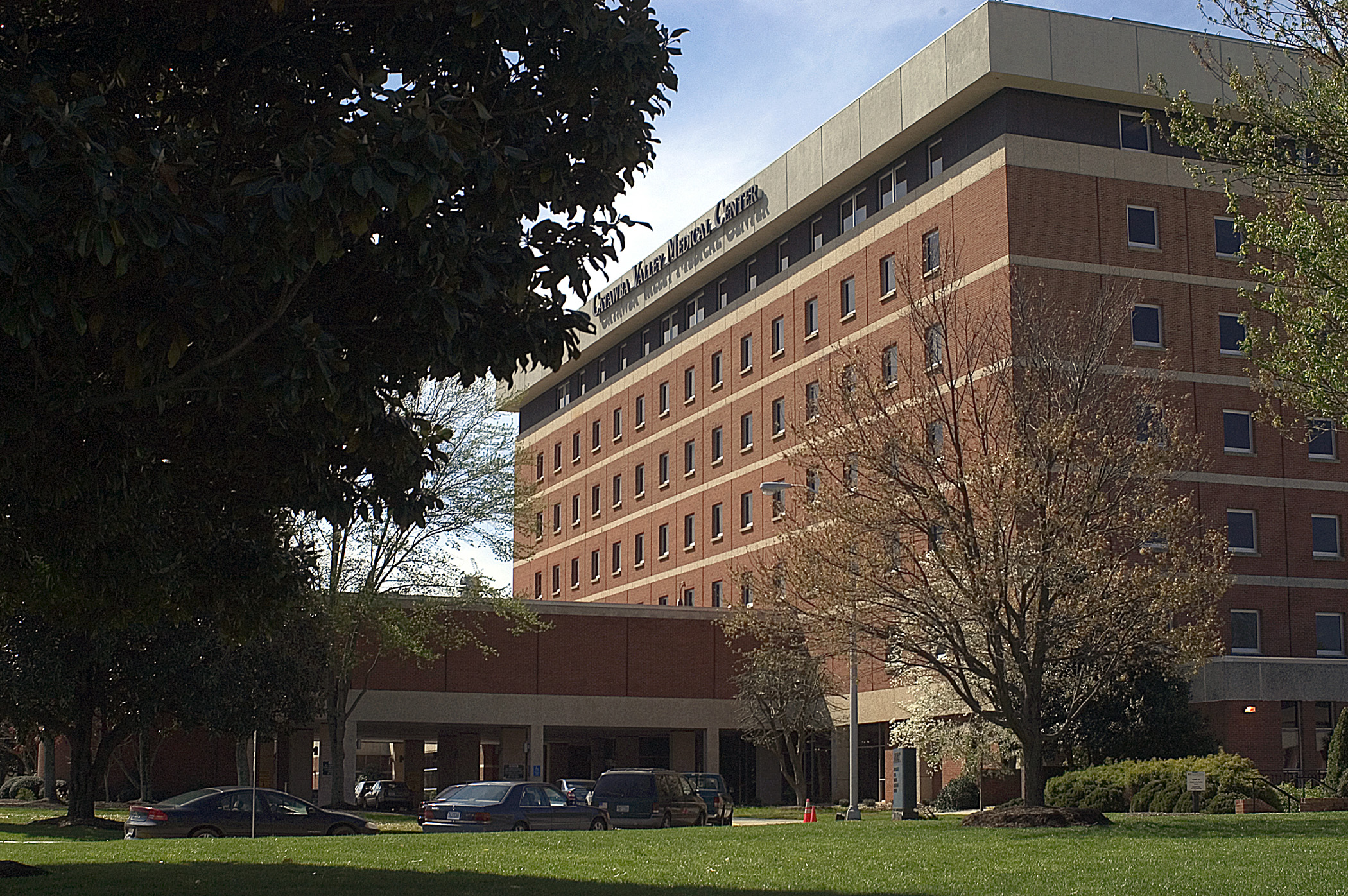 Catawba Valley Medical Center is the region's largest not-for-profit, public healthcare system and serves the community without direct funding from taxes. CVMC provides and promotes physical, mental, emotional and spiritual well-being of the public in addition to serving as a center for health education, wellness services, preventive medicine and acute care. CVMC has received five Magnet designations from the American Nurses Credentialing Center and has been recognized recently with 10 Women's Choice Awards, including being named one of America's Best 100 Hospitals for Patient Experience and having a 2020 Patient Safety score that ranks among the top 2% or all U.S. hospitals.
Frye Regional Medical Center, a part of Duke LifePoint Healthcare, has served the health and medical needs of the residents of the Catawba Valley region since 1911 with a commitment to delivering high quality and compassionate care with a focus on patient satisfaction and clinical outcomes. Frye Regional Medical Center includes a 355-bed acute care hospital, home to the Frye Regional Brain Center, Frye Regional Heart Center, Cancer Center, General and Bariatric Surgery, Emergency Services, Advanced Orthopedics, Neurosciences, Women's Birthing Center and Inpatient Rehabilitation. The system also includes the Frye Regional South Campus, an inpatient adult behavioral health treatment center designed to provide therapeutic stabilization. Frye Regional also offers the region access to more than 50 primary care and specialty care providers through the FryeCare Physicians Network.