Catawba County's proximity to the Charlotte Douglas International Airport and quick interstate access make it a prime location for business. Charlotte Douglas International Airport is reachable within 45 minutes and there are multiple direct routes to Charlotte including US Hwy 321 and I-85, NC Hwy 16, and I-40 and I-77. There are two Ports in NC as well as two inland terminals.
Interstate Network
60% of the US population is reachable from Catawba County within a one-day drive. Interstate-40 runs east to west through Catawba County. Accessible via US Highway 321, Interstate-85 is reachable in approximately 30 minutes. Interstate-77 is also reachable in 30 minutes via Interstate-40.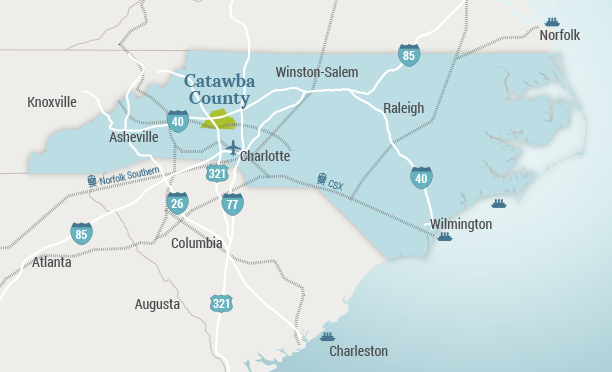 To view additional maps, visit our Map Center.
Drive Times from Catawba County
City
Miles
Drive TIme
Charlotte, NC
59 miles
1 hr
Spartanburg, SC
82 miles
1 hr, 30 min
Charleston, SC
258 miles
3hrs, 45 min
Atlanta, GA
258 miles
3 hrs, 45 min
Chattanooga, TN
288 miles
5 hrs
Washington, DC
400 miles
6 hrs
Cincinnati, OH
438 miles
6 hrs, 30 min
Detroit, MI
620 miles
9hrs, 30 min
New York, NY
632 miles
9hrs, 30 min
Chicago, IL
726 miles
11 hrs
Miami, FL
778 miles
12 hrs
Charlotte Douglas International Airport
Charlotte Douglas International Airport (CLT) is ranked the 5th busiest airport in the world, averaging nearly 1,400 daily aircraft operations. CLT serves 180+ nonstop destinations and 35+ international destinations. CLT welcomes more than 43 million passengers annually. (CLT Fast Facts)
CLT is served by eight domestic carriers and three foreign flag carriers. Daily nonstop service to domestic and international destinations includes Frankfurt, London, Madrid, Munich, Toronto, Montreal, and Mexico City among others.

Air Cargo
CLT offers a variety of air cargo facilities to meet your company's needs. For more information, including details on CLT's current air cargo development strategy, email cargo@cltairport.com.
Wilson Air Center
Wilson Air Center operates CLT's Fixed Base Operation (FBO) through a management agreement. The Wilson Air complex consists of more than 50 acres of facilities and a variety of aircraft storage including heated storage, T-hangars, SunPorts and tie-downs. They also offer ground support services such as parking, fueling, catering, rental cars, military support, freight handling and airline charter services. Wilson Air Center - CLT has been named Professional Pilot Magazine's #1 Best Small U.S. FBO for three consecutive years.
4010 General Aviation Drive
Charlotte, NC 28208
704-359-0440
Hickory Regional Airport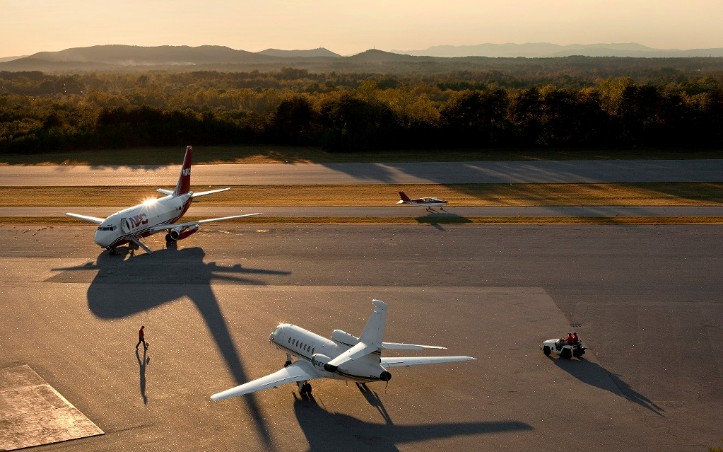 The Hickory Regional Airport, owned and operated by the City of Hickory, is the aviation leader in Western North Carolina. The Hickory Regional Airport provides the Hickory Metro area with a gateway to the world through a well-maintained runway/taxiway system, a customer-focused terminal building, and aircraft services through the City-operated Fixed-Base Operations (FBO). Conveniently located just off U.S. 321 at 3101 9th Avenue Drive NW, Hickory Regional Airport is a general aviation airport that still holds its 139 FAA Certificate for commercial service. It covers 739 acres and has two asphalt runways: 6/24 is 6,400 x 150 feet and 1/19 is 4,400 x 150 feet.

With a commitment to providing the highest level of service to its customers, the Hickory Regional Airport offers free Wireless Internet Access, exceptional facilities, free parking, advanced airfield maintenance and timely service, and fuel operations.

For more information about the Hickory Regional Airport, please contact the FBO at (828) 327-0147 or Airport Director Terry Clark at (828) 323-7408.
Port of Wilmington
The Port of Wilmington is strategically located on the East Coast of the United States within 700 miles of more than 70% of the U.S. industrial base. Recent and ongoing improvements to regional and national highway networks make surface transportation supporting the Port of Wilmington superior to neighboring ports. And CSX Transportation provides intermodal rail service with best-in-class transit times, as well as daily service for boxcar, tanker and general cargo services.
The Port of Wilmington is one of few Southern ports with readily available berths and storage areas for containers and general cargo. Specifically, it offers terminal facilities serving container, bulk, breakbulk, and ro-ro operations. It offers a deep 42-foot navigational channel, nine berths with 6,768 feet of wharf frontage, four post-Panamax container cranes and three neo-Panamax container cranes. Modern transit and warehouse facilities and the latest in cargo management technology provide a broad platform for supporting international trade to the fast-growing Southeast U.S. market.
Getting your containers off-loaded and on their way is one of the Port of Wilmington's greatest strengths. We're equipped to handle large shipments with state-of-the-art, post-Panamax and neo-Panamax cranes and support equipment, as well as warehousing capabilities. Our crane productivity rates consistently deliver more than 40 moves per hour, and truck turnaround times at our ports average 18 minutes for a single move and 32 minutes for drop-off and pick-up.
And when you need to get your containers on the road, Wilmington is the closest port to major points on the I-85 Corridor, including Charlotte, Greensboro and Raleigh-Durham. Recent improvements to regional and national highway networks make surface transportation supporting the Port of Wilmington's container terminal superior to neighboring ports.
Located on the Cape Fear River, the Port of Wilmington's general cargo terminal offers excellent service for bulk, breakbulk, project and ro-ro cargoes. The Port's 42-foot channel allows customers additional vessel capacity. The Port has direct interstate access to Interstates 95 and 40 and daily train service from CSX Transportation. Wilmington is one of the few Southern ports with readily available berths and storage areas for general cargo.
The Port is also a C-TPAT Certified location and is designated as Foreign Trade Zone 214. So you can experience significant savings.
Port of Morehead City
The Port of Morehead City, a breakbulk and bulk facility, is one of the deepest on the United States East Coast, and it's just four miles from the Atlantic Ocean. It's also within 700 miles of more than 70% of the U.S. industrial base. Interstates 95 and 40 are easily accessed via U.S. Highways 70 and 17. And train service is provided by Norfolk Southern. Located across the Newport River from the Port of Morehead City is Radio Island, a 150-acre site perfectly suited for a port industrial development, conveniently supplied with municipal water and sewer.
The port is equipped with nine berths and a Liebherr 420 Portal Gantry Crane with 124MT/136ST capacity. Storage offerings include a dry-bulk facility with 220,000-ton capacity warehouse and a 177,000-square-foot warehouse for housing high-value commodities like rubber, paper, steel and lumber. All together there is more than one million square feet of storage, including prime covered and sprinklered, plus 30 acres of paved open area.
Charlotte Inland Port
Located 45 minutes from Catawba County, North Carolina Port's Charlotte Inland Port connects customers to distribution corridors, services and opportunity. Strategically located in the heart of the region's manufacturing and distribution centers, the port serves the I-85 and I-77 corridors. With 20 acres, 10 of which are already developed, the port can accommodate 2,000 grounded/wheeled containers. It also provides container yard operations to ocean carriers and serves as a staging area for empty and loaded containers with maintenance and repair service from an onsite vendor.
The Queen City Express simplifies logistics. It provides next-day intermodal transit service from the Port of Wilmington to the North Carolina Ports Charlotte Inland Port—a hub with direct access to major distribution corridors in the Southeastern U.S. It also offers reduced transit costs and no dwell times at either location. That's smooth sailing, from sea to city. Both ways. Every day.
QCE Advantages
• Shortens first and last mile truck transit
• Lowers transportation costs for businesses
• No dwell times at Port of Wilmington or North Carolina Ports Charlotte Inland Port (CIP)
• Flexible staging at CIP with 24/7 access potential
• Provides customers unprecedented access to Southeastern United States
• Reduces the number of trucks on roadways, therefore reducing emissions
• Guaranteed product options