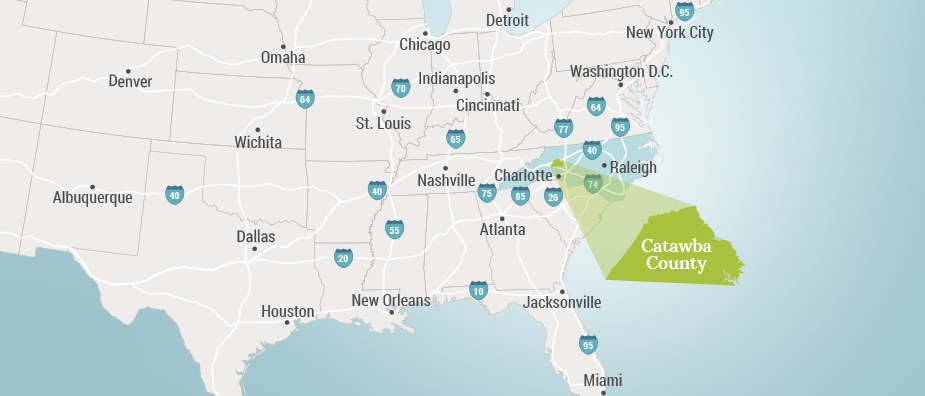 Catawba County is located northwest of Charlotte in the State of North Carolina and covers 405 square miles (656.10 Km). The central county of North Carolina's 8th largest MSA (2021 population estimate – 366,441), Catawba County's 2021 population of 161,723 includes the inhabitants of its eight municipalities. These municipalities include Brookford, Catawba, Claremont, Conover, Hickory, Long View, Maiden, and Newton, the county seat of Catawba County.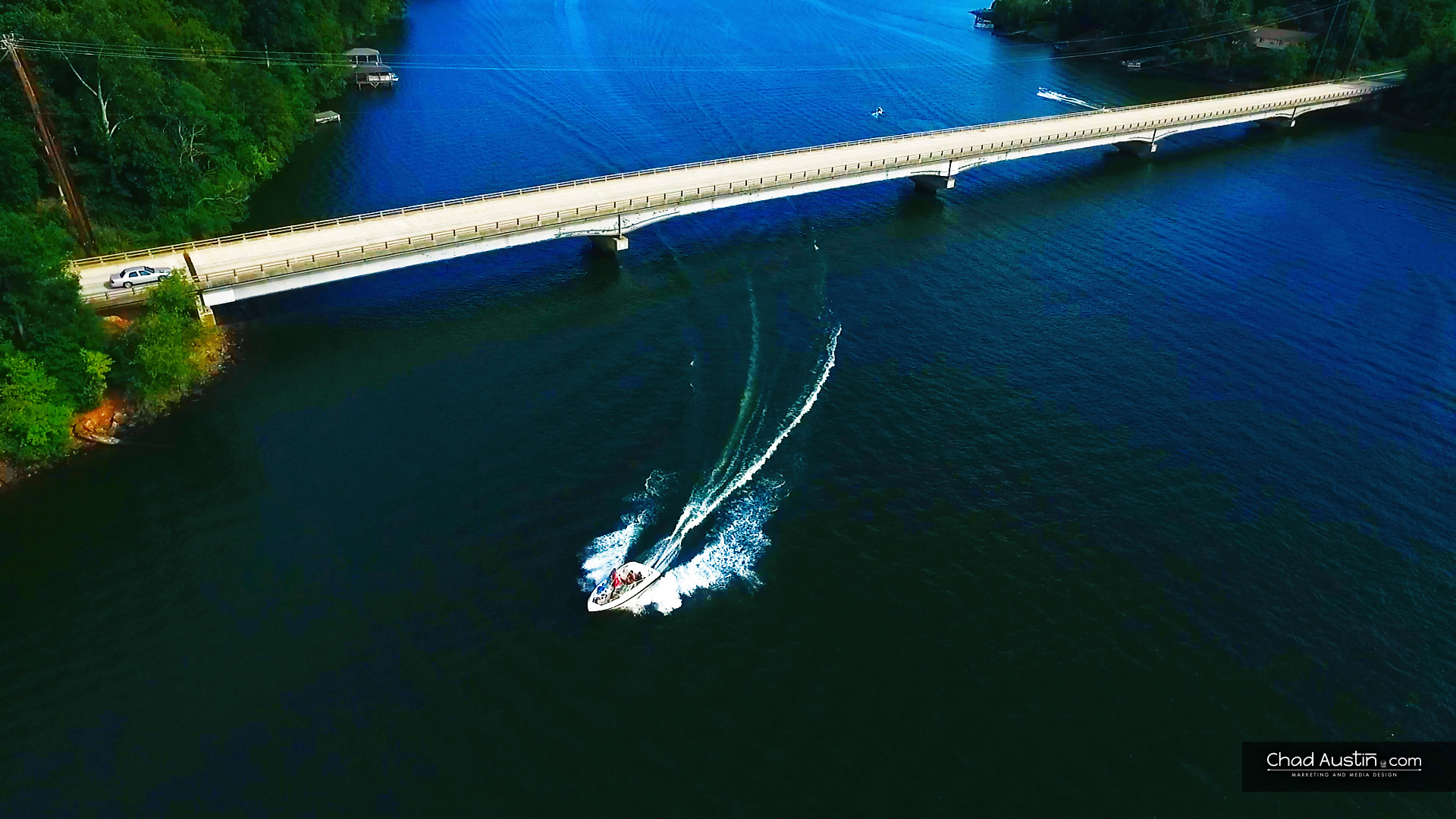 Catawba County's three lakes and its location in the foothills of the Blue Ridge Mountains exert a strong influence on the County's climate and ambiance. The County is sheltered by mountains that moderate winter temperatures and provide refreshing summer breezes. Elevation ranges from 705 to 1780 feet, averaging 995 feet. Its average year round temperature is 58.6 Fahrenheit (14.8 Celsius). Its three large lakes are strikingly backdropped against the wooded shorelines. Lake Hickory covers 4,100 acres (1,659 hectares) and 272.1 miles of shoreline (169 Km), Lake Lookout Shoals covers 1,270 acres (514 hectares) and 39.1 miles of shoreline (63 Km), and Lake Norman covers 32,510 acres (13,157 hectares) and 520 miles of shoreline (837 Km).
2021
Hickory-Lenoir-Morganton M.S.A.
366,441
Catawba County
161,723
Town of Brookford
481
Town of Catawba
462
City of Claremont
1,643
City of Conover
8,452
City of Hickory*
40,634
Town of Long View*
4,959
Town of Maiden*
3,410
City of Newton
13,059
* - also includes population living in City or town limits, but outside of Catawba County
Catawba County's proximity to interstate access makes it a prime location for business. Interstate-40 runs east to west through Catawba County. Accessible via US Highway 321, Interstate-85 is reachable in approximately 30 minutes. Interstate-77 is also reachable in 30 minutes via Interstate-40.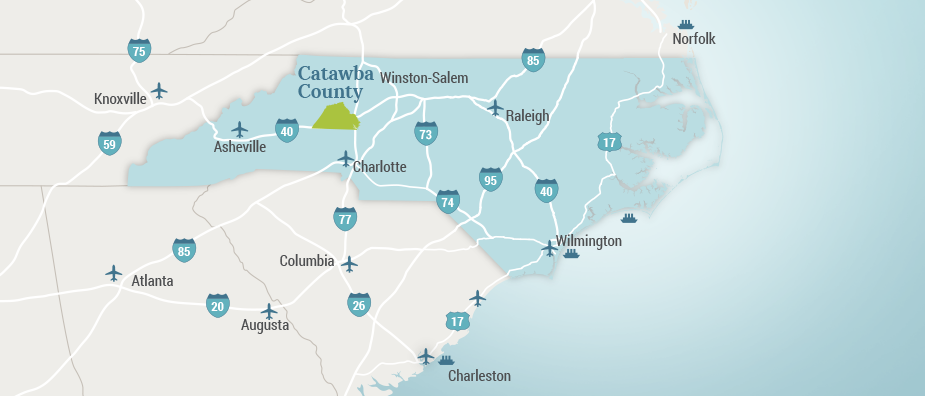 Catawba County is located within one hour of the City of Charlotte, home of the Charlotte-Douglas International Airport and headquarters of Bank of America. The Appalachian resort areas of Boone and Blowing Rock are within an hour's drive. The City of Asheville, home of the Biltmore Estate, lies less than an hour and a half to the West. Winston-Salem, with a large Dell manufacturing plant, and Greensboro, home of the Greensboro International Airport and a major distribution hub for FedEx, lie an hour and a half to the East, respectively. BMW's manufacturing plant in Spartanburg, SC is located approximately an hour and a half to the Southwest.
Climate
1991-2020 Monthly Climate Normals
Month
Mean
Max.
Temp. (F)
Mean
Max.
Temp. (C)
Mean
Min.
Temp. (F)
Mean
Min.
Temp. (C)
Mean
Avg.
Temp. (F)
Mean
Avg.
Temp. (C)
Avg.
Total
Precip. (in.)
Avg.
Total
Precip. (mm.)
January
49.1
9.5
30.2
-1.0
36.7
2.6
3.81
96.8
February
53.2
11.8
32.8
0.4
43.0
6.1
3.21
81.5
March
60.7
15.9
39.5
4.2
50.1
10.1
4.08
103.6
April
70.0
21.1
47.7
8.7
58.8
14.9
4.08
103.6
May
77.4
25.2
56.2
13.4
66.8
19.3
3.86
98.0
June
84.3
29.1
64.4
18.0
74.3
23.5
4.35
110.5
July
87.4
30.8
68.1
20.1
77.7
25.4
4.29
109.0
August
85.7
29.8
67.0
19.4
76.4
24.7
4.58
116.3
September
79.8
26.6
60.9
16.1
70.4
21.3
3.93
99.8
October
70.2
21.2
48.9
9.4
59.6
15.3
3.49
88.6
November
59.9
15.5
38.7
3.7
49.3
9.6
3.62
91.9
December
51.5
10.8
32.8
0.4
42.2
5.1
3.85
97.8
Source: NOAA