Foothills Distillery's Seventeen Twelve Bourbon ingredients grown, aged in North Carolina
By MONICA VENDITUOLI mvendituoli@hickoryrecord.com Hickory Daily Record
Posted Wednesday, October 7, 2015 5:00 am | Updated: 11:01 am, Thu Oct 8, 2015.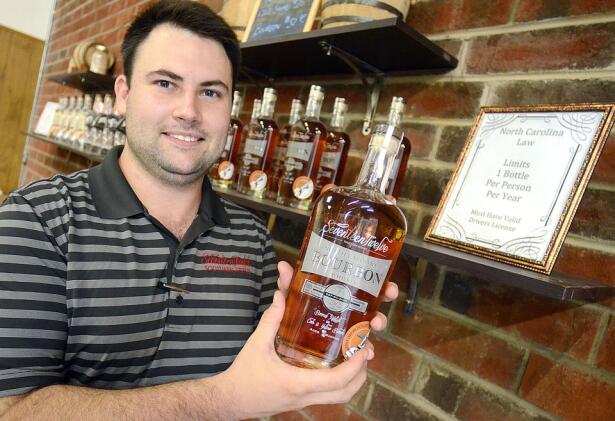 CONOVER – Foothills Distillery celebrated a number of firsts last week.
Conover Mayor Lee E. Moritz Jr. and friends of the Foothills Distillery attended a ribbon cutting ceremony at the business located on 300 Thornburg Drive SE in Conover.
"It's a historic event for Conover," Moritz said. "It's very exciting for our citizens to have a new business here."
Last Thursday marked the first day that Foothills Distillery officially opened its doors to tours for the public.
Foothills Distillery Co-owner Zackary Cranford said the site has 30 barrels filled.
Each barrel produces between 325 and 360 fifths of liquor. "A barrel's more of an art that a science," Cranford said with a chuckle.
In addition, Foothills Distillery began selling Seventeen Twelve Bourbon, its first bourbon. This new liquor release is especially special.
It's the first bourbon distilled in North Carolina since Prohibition.
From 1920 to 1933, the United States instated a constitutional ban on the sale, creation, and transportation of alcoholic beverages which became known as the "Prohibition era."
"We looked at what we liked to drink," Cranford said when asked how he decided to make a bourbon.
In addition to being distilled in North Carolina, Cranford said Seventeen Twelve Bourbon ingredients were also grown and aged in North Carolina.
"A lot of people think that bourbon is made in Kentucky alone. That's a myth," Cranford said.
Foothills Distillery has been in business since 2013, making it one of the first distilleries in North Carolina. Since its inception, it has distilled and bottled two brands – Seventeen Twelve and Old Nick Williams and three different liquors.
Seventeen Twelve Moonshine, one of the liquors, was on the market prior to Thursday, Cranford said.
Old Nick Williams was the other product released.
"It's an old family recipe. Their ancestors had a distillery in Lewisville, North Carolina," Cranford said of the brand. "These are the first drops of that recipe in over 110 years."
Some of Nick Williams' family members came to the event last week.
Both of these brands also will be sold at local ABC stores, Cranford said.
Foothills Distillery joined a number of other distilleries in North Carolina in selling their liquor directly to site visitors for the first time in more than 100 years.
Previous North Carolina state law only allowed the sale of spirits from ABC stores.
"This is a big step for our state's 26 craft distillers," Distillers Association of North Carolina Vice President Scott Maitland said in a news release. "The new law will help distilleries build brand awareness and lead to increased sales."
The new law will not give ABC stores a run for their money by any means.
As of Thursday, North Carolina distilleries have been given permission to sell one bottle of liquor per person. Each person is additionally limited to buying only one bottle per year.
Despite the selling restrictions, Cranford is hopeful that the new law will help attract new drinkers.
"This will give us the opportunity to show visitors our meticulous process involved in each batch of spirits," Cranford said. "The new rule will help us capitalize on that interest, so we don't miss out on a potential sale. It also will give our guests a great souvenir of their experience."
More Information:
Want to take advantage of the new North Carolina liquor law? Want to know more about North Carolina Distillers?
» Tours of Foothills Distillery, located in Suite A at 300 Thornburg Drive SE in Conover, are available starting at the top of each hour from 4-7 p.m. Fridays and 3-6 p.m. Saturdays.
» Foothills Distillery also will be having bottle signings with its Master Distiller at the Conover ABC store Friday and the new ABC store in Hickory on Saturday.
» More information on Foothills Distillery can be found at www.foothillsdistillery.com.
» The Distillers Association of North Carolina is in the process of launching a new passport program to encourage people to visit distillers. A collector's edition of the passport will be available at participating distilleries in October. Tourists can collect unique stamps at each location they visit along the way.
» The Distillers Association of North Carolina also is working on creating a new website and mobile application.
» More information on the Distillers Association of North Carolina can be found at www.DistillersAssociationofNC.org.