Corning Incorporated to invest $60 million and create 110 jobs as first tenant in Trivium Corporate Center
HICKORY, N.C. -- The City of Hickory, Catawba County, and the Catawba County Economic Development Corporation (EDC) announced today that they have signed the first tenant for the Trivium Corporate Center, a 270-acre Class A business park to be built in southeast Hickory. Corning Incorporated (NYSE:GLW) plans to  build a cable manufacturing facility in the park for its Optical Communications business segment, creating  approximately 110 jobs over the next five years and investing $60 million in this location.
Trivium Corporate Center, located between Robinwood Road and Startown Road in Hickory, is being jointly developed by the City of Hickory, Catawba County, and the EDC, as one of the four City of Hickory bond projects.  Bond funds totaling $4.5 million have been allocated to Trivium Corporate Center. The Latin word trivium means "the place where three roads meet," which reflects the location of the Corporate Center along the main connector between Interstate 40, and U.S. Highways 70 and 321.
As part of the project, 26.82 acres owned by the Trivium Corporate Center Inc., a non-profit entity jointly developed and funded by Catawba County and the City of Hickory, will be transferred to Corning for its new facility. Corning plans to add manufacturing capacity to maintain its market-leading position and ensure reliable supply for its customers as it addresses growing worldwide demand for optical fiber and cable, the company has indicated.
"Signing the first tenant for Trivium Corporate Center opens a new chapter for economic development in Hickory -- made possible by the vision of our citizens who approved bond funds for projects to help the local economy grow and thrive," said Warren Wood, Hickory city manager and president of the Trivium Corporate Center Board of Directors. "It's especially fitting that the first tenant will be Corning, a keystone of our business community for almost 40 years."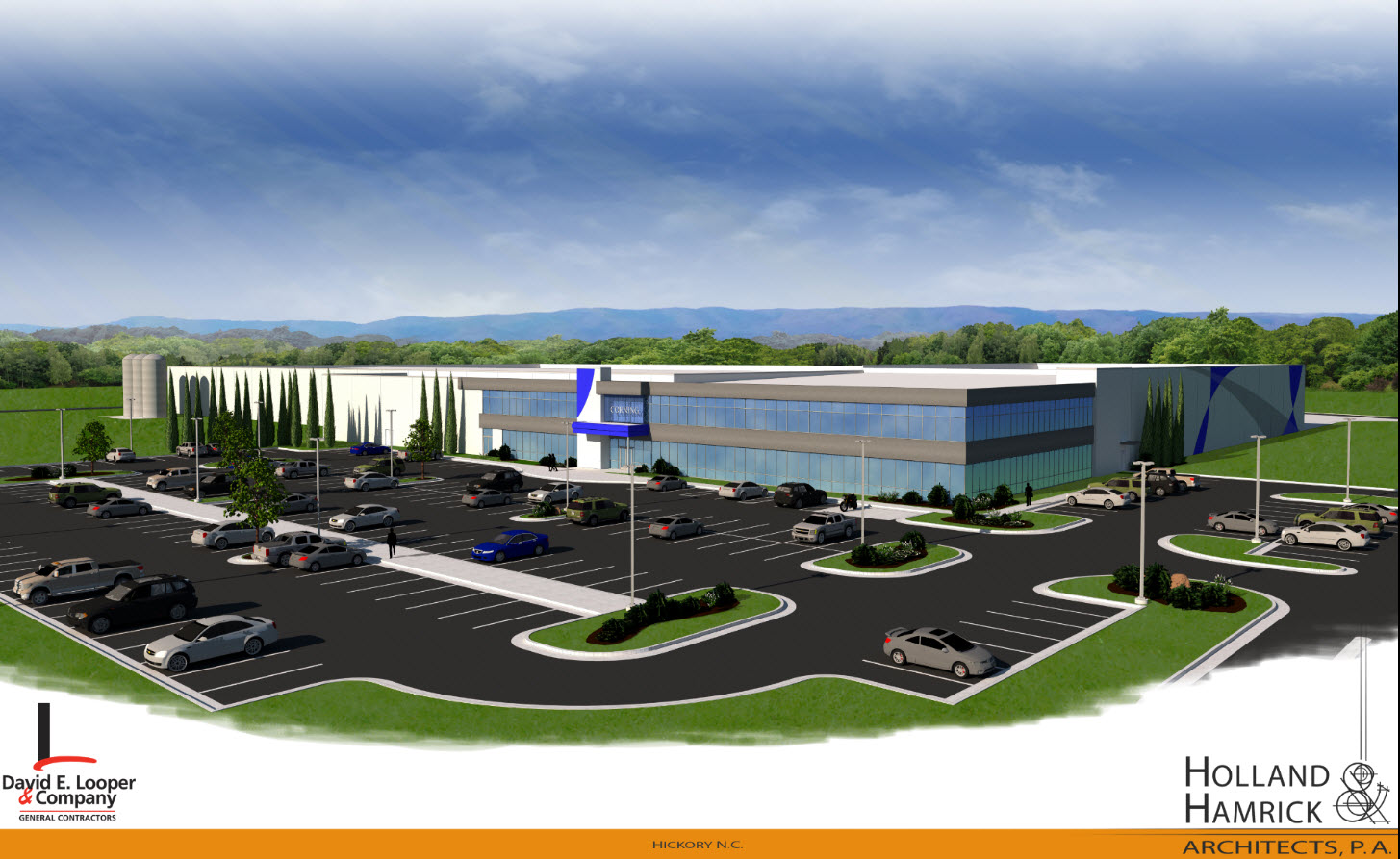 "This new manufacturing plant underscores Corning's commitment to Catawba County and to North Carolina, and we deeply appreciate the long-standing support of our state and local leaders," said Dr. Bernhard Deutsch, vice president and general manager, Corning Optical Fiber and Cable. "Corning is investing in tomorrow's growth today, as the growing number of connected devices fuels demand for our optical fiber and cable innovations. Our workforce here in Catawba County, and in North Carolina, is helping bring those innovations to life."
"Today we celebrate a milestone for Trivium Corporate Center and for Corning," said Randy Isenhower, chair, Catawba County Board of County Commissioners, and chair, Trivium Corporate Center Board of Directors. "Corning has manufactured cable in Hickory for decades, and just this year opened a new cable plant in Newton. We're grateful for their ongoing contributions to our local economy."
"Hickory is proud of its long association with Corning, and today's announcement deepens that relationship," said Hickory Mayor Hank Guess. "It also brings to life the vision behind the city's bond program, to make Hickory an even better place to live and work."
"Trivium is getting off to an excellent start, with Corning adding high-quality, advanced manufacturing jobs," said Robin Nicholson, chair of Catawba County EDC. "This sets a tone for future growth in this economic asset for our region."
Corning plans to hire a variety of workers for the new manufacturing operations, including operators, distribution staff, maintenance personnel and other workers. Salaries will vary by position, but the average annual compensation for the company's new jobs will be above the Catawba County average wage.
Corning employs more than 4,000 people in North Carolina across its Optical Communications and Life Sciences business segments, making North Carolina the company's largest U.S. employment center after New York state.  Corning Incorporated is a global company with approximately 45,000 employees.
For more information about Corning Optical Communications, including job opportunities, visit www.corning.com.
###
Media Contacts:
Catawba County Economic Development Corporation
Scott Millar
828-267-1564
smillar@catawbacountync.gov
Corning Optical Communications
Justin Nicolette
828-901-6994
nicolettj@corning.com
SEE ADDITIONAL COVERAGE:
Corning to create 110 jobs at new Hickory plant (Hickory Daily Record)
Corning Incorporated to invest $60 million and create 110 jobs as first tenant in Trivium Corporate Center (Observer News Enterprise)
Corning to create new jobs at the Trivium Corporate Center (WHKY)
Corning to build new plant in Hickory (Lenoir News-Topic)
Corning to bring $60M optical cable plant, 110 jobs to new Hickory Business Park (Charlotte Business Journal)
Corning to build $60M cable plant in southeast Hickory (WFAE)