Brewery set for summer opening
Owners: 'It's an exciting time to be part of Hickory'
by Miya Banks, Hickory Daily Record
Click here for the original article and additonal video from the Hickory Daily Record.
By summer, there will be a new brewery in Hickory.
The brewery will be joined next door by a barbecue restaurant before the year is out.
That is the plan of Cranford Hospitality, the company that owns two Hickory dining staples, Charolais Steakhouse and Standard Oyster Company, along with other restaurants. Cranford Hospitality is Kent Cranford and sons Zackary and Tucker Cranford.
By summer, the family plans to open City Walk Brewing and Distilling at 205 Main Ave. NE, along a portion of the City Walk, said Zackary Cranford. In late fall, he said the Cranford Brothers' BBQ restaurant will open next door.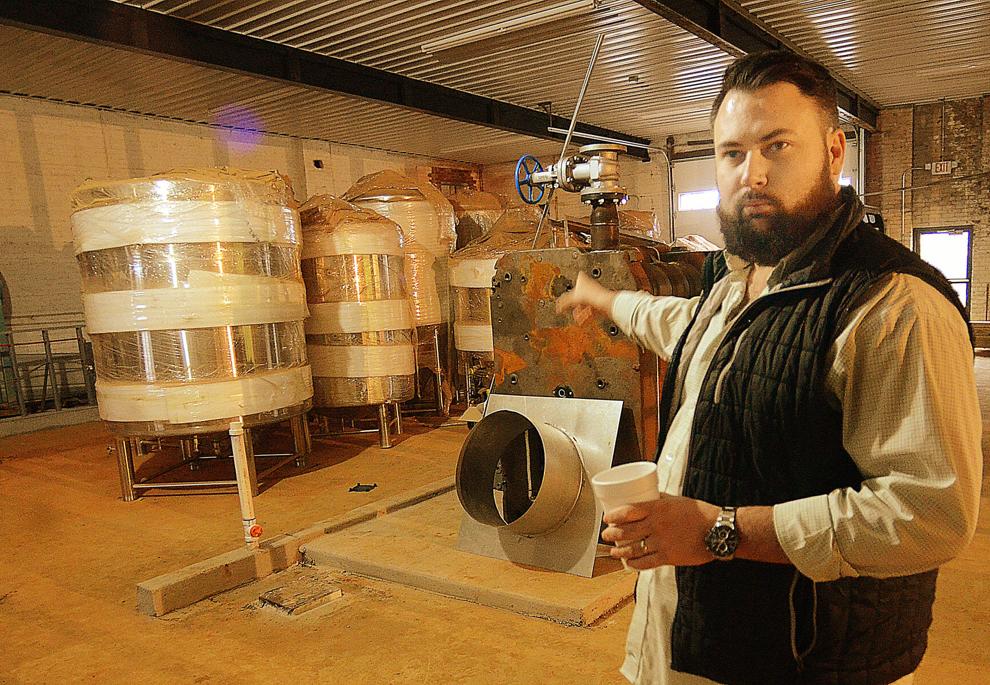 The brewery will feature its own brand of beer that will be brewed and distilled on-site, Zackary Cranford said. He added that City Walk beers will be made with local ingredients when possible. The brewery will also feature beers brewed nearby, in North Carolina cities such as Asheville.
The distillery tanks will be immediately visible to patrons entering from the Seventh Street entrance, Zackary Cranford said. There will also be a classic Corvette his father, Kent Cranford, restored on display at the Seventh Street entrance.
There will be a patio space outdoors capable of seating up to 200 people, along with an outside stage, Zackary Cranford said. Kent Cranford added that, in the future, the brewery aims to host family-friendly movie nights and other events with a projector set up on the patio.
Zackary Cranford said there will be 20 to 22 taps, two of which will be dedicated to non-alcoholic options.
The inside of the brewery will seat 80 to 90 patrons, Zackary Cranford said. In one corner of the brewery, there is a separate room that will be a small, sophisticated cocktail lounge, the Cranfords said.
City Walk Brewing and Distilling will have a limited menu of snacks, but Cranford Brothers' BBQ is planned to be takeout friendly, Zackary Cranford said. "So you'll be able to get some barbecue, and come on down, sit on the patio (and) enjoy a City Walk beer," he said.
The Cranfords said they aim to make it a family-friendly establishment.
Kent Cranford said his family has always been tight-knit and enjoys having meals together. Zackary Cranford said he wants to give the public a space where families and friends can share special moments over food and drinks in a family-friendly environment.
"I think we're really investing into the heart of downtown, in the heart of the City Walk," Zackary Cranford said, adding that he has seen a cultural shift in Hickory since he returned from college 10 years ago. He said there is less manufacturing now and more hospitality and restaurants. Zackary Cranford said there is a younger population moving in, and, "I think it's an exciting time to be part of Hickory as it's changing."
Zackary and Tucker Cranford grew up in Burke County, they said, and have been in the hospitality business for as long as they can remember with their father's restaurants. The brothers left for college for a few years, and when they returned, began considering how to make a lasting impact on Hickory and Catawba County.
"Instead of expanding beyond Hickory, we made a commitment several years ago that we wanted to invest in our community, because we believe in what's going on here," Zackary Cranford said. "I think this is our biggest investment yet. We're very excited about the opportunity, not just for us, but for everybody to be able to enjoy this (and) be able to provide for community, essentially