Transportation Insight Receives Award for Revitalization Project
Site on National Register of Historic Places Transformed into "Lifestyle Business" World Headquarters
HICKORY, NC (March 16,2017) - Transportation Insight, a multi-modal lead logistics provider and 2016 U.S. Environmental Protection Agency SmartWay® Excellence Awardee, received the 2016 N. C. Main Street Award of Merit for Best Historic Rehabilitation. The Enterprise Logistics Solutions provider was recognized for renovating the 1930s era Lyerly Full-Fashioned Mill site to become its corporate campus.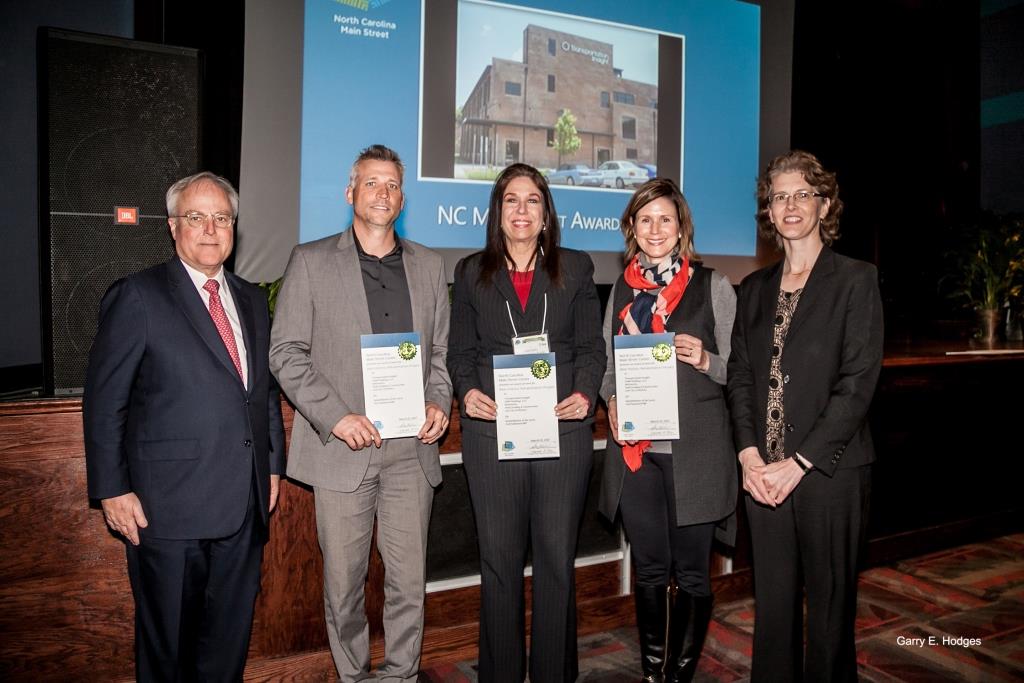 "Our goal is to create North America's largest and most reputable provider of value-based logistics services by Jan. 1, 2020. In an intensely competitive marketplace, achieving that goal relies on our ability to create a corporate culture that allows us to attract and retain the next generation of innovators and visionaries, thinkers and doers," said Transportation Insight Founder and Chairman Paul Thompson. "For our company to be successful for the long term, that means we need to attract not just millennials, but members of a changing society that want to live in a vibrant community where they have things to do every day."
"With our new corporate campus, we wanted to create a workplace that's unique in the logistics industry and something really cool to energize our associates to provide high-value service to our 1,300 clients," Thompson said. "Transportation Insight is committed to the City of Hickory to help in its revitalization and reinvention as we continue collaborating to support the development of greenspaces, sidewalks and other amenities critical to this becoming an eclectic, livable community."
Transportation Insight's 11-acre downtown Hickory campus features more than 70,000 square feet of office space, anchored by the Global Building inside the historic hosiery mill. Originally constructed in 1930 in the Art Moderne style, it is Hickory's only remaining two-story hosiery mill from this era. The building was restored to its original state with hardwood floors and ceilings. Every effort was made to keep or match original materials in the building, including more than 90 percent of the wood that was reclaimed and refinished to its original state. The distinctive metal vents on the mill building's roof are original, and they are fully functional.
An Art Moderne tower at the east entrance and two-story walls of windows that extend the length of the building create an impressive façade. Those windows were replaced with 2,370 panes of glass and many of the metal window frames were either refinished or rebuilt completely. Crews spent more than a month working to replace broken bricks and cleaning every inch of the mortar in the mill building's exterior, restoring the finish of the mortar to its original specified color.
While the building and property renovations maintain the historic appearance of the old hosiery mill, Transportation Insight's position as a global logistics provider and supply chain consultant requires infrastructure to support the state-of-the-art technology needed to serve clients. Within the building's 18-inch-thick concrete and steel walls, construction crews removed the original first floor concrete completely and laid thousands of feet of conduit to deliver electricity and high-speed fiber-optic networking capabilities to all corners of the building before pouring a new concrete slab. The wooden floors on the center hallway of the first floor, as well as the entire second floor, were replaced. Those floors received three rounds of sanding, two coats of stain, one coat of white pickling and three coats of clear sealer to mirror the historic feel of the old mill and preserve the wood for a long future.
Transportation Insight's corporate campus at the Olde Hickory Mill Park also includes the company's transactional division BirdDog in the adjacent Americas Building. It also underwent significant renovation to accommodate up to 250 employees and house a full-service cafeteria. Like the Global Building, the Americas Building features an open floorplan concept that facilitates advanced teamwork and creates an atmosphere that fuels creativity.
Redevelopment of an additional building on the campus is underway. Within this structure will be 15,000 square feet of indoor exercise and athletic facilities, including a gymnasium with a regulation-size basketball court. An onsite athletic field is regularly utilized by community sports teams, while the property's parking lot is available for community use after hours and on weekends.
Transportation Insight was recognized during N.C. Main Street Association's Annual Conference in Shelby, along with other Lyerly Mill project partners: development company OHM Holdings, LLC, MHAworks Architecture, Neill Grading & Construction and the City of Hickory. Fifteen award-winning projects from across the state were celebrated during N.C. Main Street's Annual Awards Reception and Program at Don Gibson Theater.
"We congratulate these outstanding communities for their leadership in downtown revitalization," said N.C. Commerce Secretary Anthony M. Copeland. "For 37 years, the North Carolina Main Street program has championed the principles of effective downtown development and these award winners now join the ranks of a long line of transformative projects across our state."
The N.C. Main Street program helps small towns preserve their historic fabric and, using local resources, build on their unique characteristics to create vibrant central business districts. This year's award winners were chosen by a panel of judges from dozens of applications submitted by Main Street participants from across the state.
"These award winning communities have utilized their unique assets to develop programs that support the character of their community," said Liz Parham, director of the N.C. Main Street & Rural Planning Center, part of the N.C. Department of Commerce. "The rehabilitation projects have brought new uses to our vacant buildings, resulting in job creation, downtown living and a significant private investment in our historic districts."
Lyerly Mill ceased operations as a hosiery manufacturing facility in 1957 and was used as a warehouse afterwards. Prior to purchase of the property in 2014 for Transportation Insight's campus, the building was vacant more than a decade, although it was named to the National Register of Historic Places in 2007. With a total Transportation Insight workforce of more than 450, now more than 250 people occupy the campus daily to provide manufacturers, retailers and distributors with Transportation Insight's robust portfolio of Enterprise Logistics Solutions.
About Transportation Insight, LLC
Transportation Insight is a multi-modal, lead logistics provider with more than $1.7 billion in gross annual revenue. For nearly 20 years, the Enterprise Logistics Solutions Provider has partnered with hundreds of retailers, manufacturers and distributors to achieve significant cost savings, reduce cycle times and improve customer satisfaction rates by providing customized parcel and supply chain solutions. Transportation Insight offers a Co-managed Logistics® form of 3PL, carrier sourcing, freight bill audit and payment services, state-of-the-art transportation management system (TMS) applications, parcel technology platform (audit, engineering, advanced analytics) and business intelligence. Its logistics services include domestic transportation, e-commerce solutions, supply chain analytics, international transportation, warehouse sourcing, LEAN consulting and supply chain sourcing of indirect materials. Headquartered in Hickory, NC, Transportation Insight has secondary operating centers in Atlanta, GA, Bentonville, AR, Boston, MA, Charlotte, NC, Omaha, NE and Salt Lake City, UT, as well as more than 50 client support offices across North America. For more about Transportation Insight, visit www.transportationinsight.com, email info@transportationinsight.com or call 877-226-9950
###