Sarstedt celebrates expansion
From City of Newton  www.newtonnc.gov
NEWTON, N.C. (Dec. 14, 2016)—Newton joined Sarstedt Inc. in celebrating the recent $6 million expansion of their Newton production facility and US headquarters during a ribbon cutting ceremony on Friday, Dec. 8.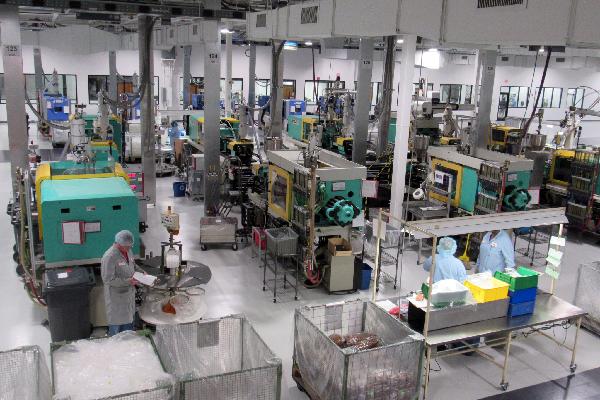 Sarstedt is one of the world's leading providers of laboratory and medical equipment. The company develops, manufactures, and sells equipment and consumables in the fields of medicine and science.

The expansion project consisted of approximately 106,000 square feet and took more than a year to complete. The renovation will enable Sarstedt to significantly increase its injection molding and assembly operation capacities while improving workflows and energy efficiency.

Sarstedt Inc. President and CEO Peter Rumswinkel noted Sarstedt's 30-year history of innovation and growth in Newton during the ceremony.

"Many of you here today have been longtime partners on this journey, so thank you," Rumswinkel said.

He praised partnerships with Catawba Valley Community College, local hospitals, and the City of Newton, and noted that Sarstedt's expansion will secure competitive jobs in the area for many years to come.

The renovation process was explained by Hans-Günter Klein, Managing Director, Engineering and Manufacturing, of Sarstedt AG & Co. KG. Klein expressed appreciation for the hard work of employees involved in the renovation as well as building partner David E. Looper and Company.

Guest speaker Dr. Garrett Hinshaw, President of Catawba Valley Community College, thanked Sarstedt for their commitment to the area and their dedication to providing apprenticeships to local students.

"I want to thank Sarstedt for its leadership, its innovation, and its growth in Catawba County," Hinshaw said. "We have a responsibility to ensure that Sarstedt has the most qualified employees for its future."

During the event, Jürgen Sarstedt, Sarstedt's Chairman of the Board, presented Hinshaw and CVCC with a surprise donation of a new 35-ton Arburg injection molding machine worth approximately $50,000 for their Workforce Solutions Complex currently under construction. A plaque and a scale model of the molding machine were given to Hinshaw to commemorate the donation and to symbolize Sarstedt's commitment to the college.

Sarstedt and seven partner companies together with CVCC founded Apprenticeship Catawba, a four year training program providing academic and technical training, in 2014. The program is a critical component for the continued development of Catawba County's workforce. Successful student apprentices receive an associate's degree in mechatronics from CVCC and a nationally recognized journeyman certificate fully paid by their sponsor company.

Founded in 1961, Sarstedt has grown to employ a workforce of 2,600 worldwide. The Sarstedt Group comprises 32 sales organizations and 13 production sites in Europe, North America, and Australia. The company's headquarters are in North Rhine-Westphalia, Nümbrecht, Germany. Their Newton facility, which serves as the company's US headquarters and is located on St. James Church Road, opened in 1987 and employs more than 200 people. 

For more information, visit www.sarstedt.com.