National Geographic names Hickory one of the Best Small Cities for 2018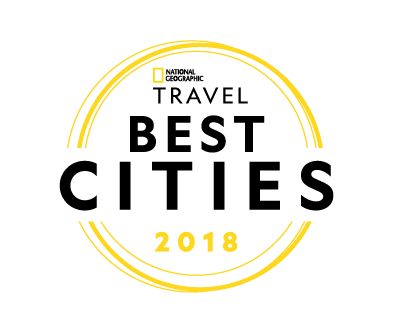 PRESS RELEASE                                                      
CONTACT:      Meg Calnan
202-912-6703
meg.calnan@natgeo.com
National Geographic Travel Names the Best Small Cities in the U.S.
February/March Issue Utilizes Data-Driven Research to Spotlight 29 Urban Destinations
WASHINGTON (Jan. 16, 2018)—National Geographic Traveler, the world's most widely read travel magazine, today unveiled its 29 "Cities on the Rise" based on both a unique set of metrics as well as expert picks from its editors. To identify these rising small cities, Traveler worked with global destination branding advisors Resonance Consultancy in developing a Small Cities Index, a survey that drew from statistics and social media mentions to determine which cities rank highest in a variety of distinctive, fun categories including green spaces, coffee shops, live music and even Instagrammable moments. The results are in the February/March 2018 issue of Traveler magazine, available now on newsstands and online at www.natgeo.com/bestsmallcities.
"At Traveler we're passionate about tales of urban renewal, about communities that have collaborated to improve their main streets, about smart cities that have pursued development policies that produce happiness. In this article, we report on authentic small cities that each embody a surprising superlative," says George Stone, National Geographic Traveler editor in chief. "Happy places for locals are also rewarding places for travelers. Our index of small cities on the rise is based on unconventional metrics that we think produce happiness: green spaces, coffee shops, breweries, music venues, Instagrammable moments and puppies!" 
Traveler's 29 Best Small Cities in the U.S. are categorized by 10 key superlatives that influence both residents and visitors alike. Here's the 10 categories and related features the index factored in:
Most Hipster Friendly (coffee shops, tattoo parlors, record shops, vintage stores)
Musically Grooviest (music venues, live music, instrument stores)
Most Instagrammed (hashtags)
Most Artsy (art galleries, art supply stores, art schools)
Best Groomed (barber shops, hair salons, hair removal services, cosmetic dentists)
Meatiest (butchers, delis, steakhouses)
Most Dog Friendly (pet sitting, pet stores, pet groomers, dog friendly restaurants)
Sudsiest (breweries)
Most Caffeinated (coffee shops)
Greenest (parks)
The results in each of these areas were then broken down by population sizes: 40,000-100,000, 100,000-200,000, and 200,000-600,000. Through Resonance Consultancy's algorithm, Traveler surfaced the cities that ranked the highest for each population size and identified "trending" cities that didn't top the list this year, but look to be climbing their way up. The Small Cities Index is based on Resonance Consultancy's World's Best Cities program, which is housed on BestCities.org and features a "Choose Your Perfect City" tool based on this data, as well as extensive city profiles on their top 100 cities.
"Every city is unique," says Resonance Consultancy President Chris Fair. "Our approach to analyzing millions of consumer-generated ratings and reviews to create indexes such as these is an innovative new approach to revealing the characteristics that differentiate one place from another. We're excited to be working with National Geographic to share this data and its insights with travelers around the world."
The 29 Best Small Cities are:
Albuquerque, New Mexico (Sudsiest)
Anchorage, Alaska (Trending- Most Caffeinated)
Ann Arbor, Michigan (Greenest)
Annapolis, Maryland (Trending- Dog Friendly)
Asheville, North Carolina (Most Artsy, Sudsiest)
Baton Rouge, Louisiana (Best Groomed)
Boulder, Colorado (Hipster Friendly, Musically Grooviest, Most Caffeinated, Sudsiest)
Charleston, South Carolina (Most Instagrammed, Most Artsy)
Columbia, South Carolina (Best Groomed, Meatiest)
Greenville, South Carolina (Meatiest)
Hagerstown, Maryland (Best Groomed)
Healdsburg, California (Trending- Greenest)
Hickory, North Carolina (Hipster Friendly)
Honolulu, Hawaii (Musically Grooviest, Most Instagrammed, Most Artsy)
Kansas City, Missouri (Trending- Most Artsy)
Lakeland, Florida (Most Dog Friendly)
Louisville, Kentucky (Trending- Meatiest)
Madison, Wisconsin (Greenest)
New Orleans, Louisiana (Trending- Hipster Friendly)
Newport, Rhode Island (Trending- Best Groomed)
Olympia, Washington (Most Caffeinated, Greenest)
Omaha, Nebraska (Trending- Musically Grooviest)
Pensacola, Florida (Most Dog Friendly)
Pittsburgh, Pennsylvania (Trending- Sudsiest)
Portland, Maine (Most Instagrammed)
Rapid City, South Dakota (Trending- Most Instagrammed)
Reno, Nevada (Meatiest, Most Dog Friendly)
Santa Cruz, California (Musically Grooviest)
Spokane, Washington (Hipster Friendly, Most Caffeinated)
National Geographic Traveler (six issues per year) is the world's most widely read travel magazine and has 15 international editions. The National Geographic Travel digital group shares its inspiring and authoritative digital content such as trip ideas, photo galleries, itineraries and more with its @NatGeoTravel community of over 40 million – making it the most followed travel brand on social media.
To learn more about each destination, visit www.natgeo.com/bestsmallcities.
National Geographic Partners LLC
National Geographic Partners LLC (NGP), a joint venture between National Geographic and 21st Century Fox, is committed to bringing the world premium science, adventure and exploration content across an unrivaled portfolio of media assets. NGP combines the global National Geographic television channels (National Geographic Channel, Nat Geo WILD, Nat Geo MUNDO, Nat Geo PEOPLE) with National Geographic's media and consumer-oriented assets, including National Geographic magazines; National Geographic studios; related digital and social media platforms; books; maps; children's media; and ancillary activities that include travel, global experiences and events, archival sales, licensing and e-commerce businesses. Furthering knowledge and understanding of our world has been the core purpose of National Geographic for 130 years, and now we are committed to going deeper, pushing boundaries, going further for our consumers … and reaching over 760 million people around the world in 172 countries and 43 languages every month as we do it. NGP returns 27 percent of our proceeds to the nonprofit National Geographic Society to fund work in the areas of science, exploration, conservation and education. For more information visit natgeotv.com or nationalgeographic.com, or find us on Facebook, Twitter, Instagram, Google+, YouTube, LinkedIn and Pinterest.