Microsoft to Invest $1 Billion in Technology Facilities in Catawba County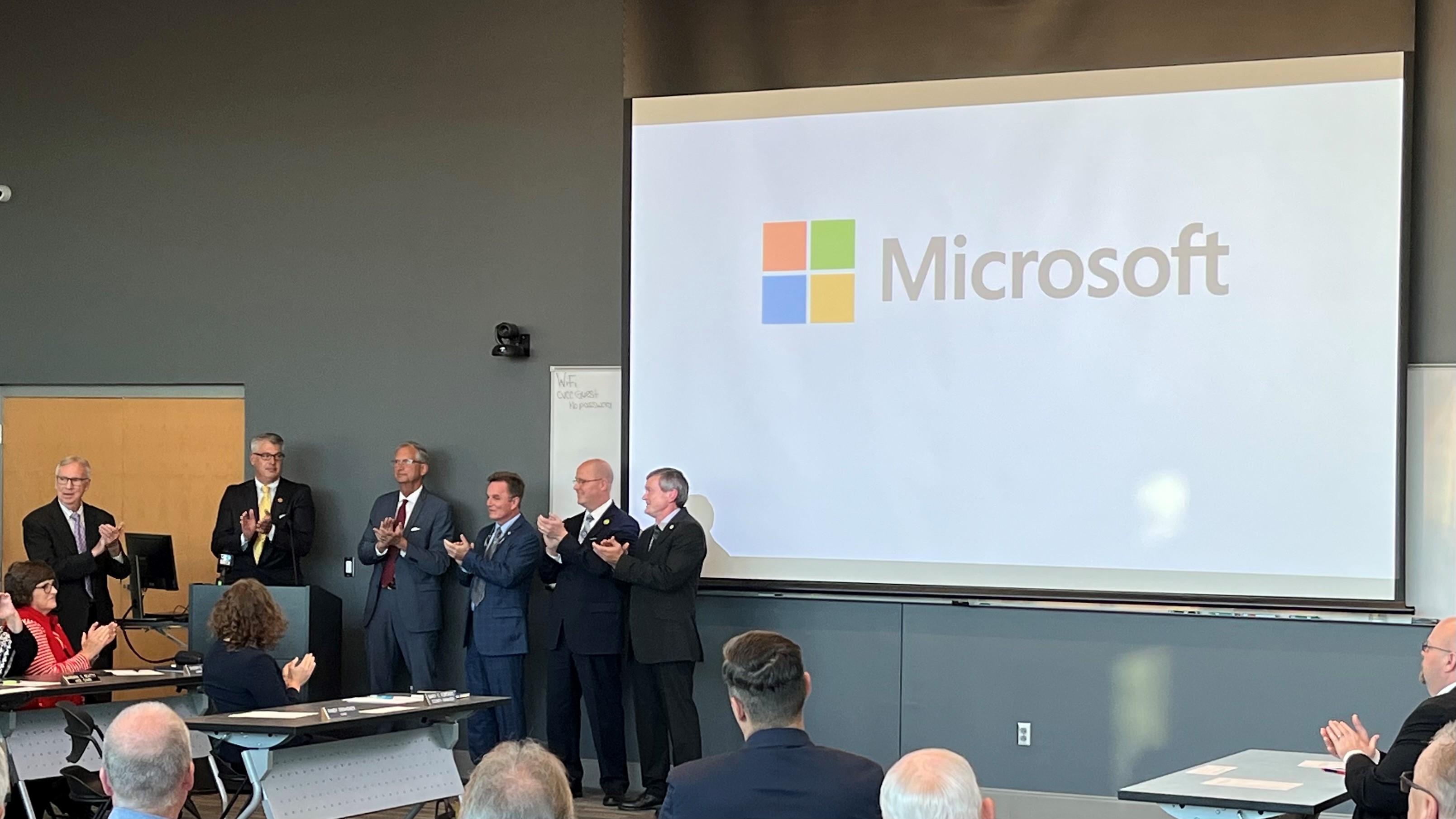 HICKORY, NC – Leaders of Catawba County, the Cities of Conover and Hickory, the Town of Maiden, and the Catawba County Economic Development Corporation (EDC) announced today that Microsoft Corp. plans to invest a minimum of $1 billion in the phased development of four datacenters in Catawba County over the next 10 years. The datacenters will be located in Conover, Hickory and Maiden and will create at least 50 new jobs.
"We are proud to work with Catawba County, the EDC, and local cities to bring exciting development projects to the area," said Paul Englis, Microsoft Director of Community Engagement. "Today's announcement is just the start of our mutual partnership and Microsoft's long-term commitment to the local community."
"It is my sincere pleasure to officially welcome Microsoft to Catawba County," said Catawba County Board Chair Randy Isenhower. "By choosing to develop a significant base of datacenter operations here, Microsoft has joined a long list of companies that recognize the value of doing business in Catawba County. This partnership was made possible due to the collaborative effort of Microsoft and the participating local governments, and we will continue to work closely together as this project comes to fruition."
"The City of Hickory is excited to be part of the team that brought Microsoft to Catawba County," said Hickory Mayor Hank Guess. "Projects of this scale don't happen without authentic collaboration among the public and private sectors, and we believe that's what makes our community special. We are pleased to welcome Microsoft to our well-crafted community."
"Microsoft is known to be an outstanding community partner, and we look forward to working with them in Conover," said Conover Mayor Kyle Hayman. "Microsoft's commitment to growing their business here and in our neighboring municipalities is the first step in what we anticipate will be a long and successful partnership for our citizens."
"The Town of Maiden is pleased to provide a welcoming home for Microsoft," said Maiden Mayor Max Bumgarner, Jr. "We understand the unique needs of Microsoft, and we are well prepared to support their success here and across the county in the years to come."
"Today's Microsoft project announcement is a direct result of the Catawba County Economic Development Corporation's long-time, multi-jurisdictional plan to drive technology development in Catawba County," said Dr. Garrett Hinshaw, Catawba County EDC board chair and president of Catawba Valley Community College. "We are pleased Microsoft has become part of the cadre of companies that have chosen to grow their technology operations here, and we remain committed to being an exceptional partner for the technology sector in the future."
The Conover site will be located on approximately 219 acres north of Conover on NC Hwy 16. This location includes the multi-jurisdictional NCDataCampus site, which has long been planned as a potential location for multiple technology facilities.
The Hickory sites will be located on approximately 160 acres west of US 321 adjacent to Hickory Lincolnton Hwy. and on approximately 16 acres on Tate Blvd.
The Maiden site will be located on approximately 292 acres north of W. Maiden Rd. and west of Zeb Haynes Rd.
Economic development agreements and incentive grants for the project were approved at a joint meeting today by the Catawba County Board of Commissioners and the elected councils of Conover, Hickory and Maiden. Additionally, the Catawba County Property Development Corporation board approved the sale of the NCDataCampus site during the meeting.
Terms include a guaranteed minimum investment in Catawba County of $1 billion and in each municipality of $332 million, with an additional $33 million to Hickory for its second site, over 10 years. Performance-based incentive grants of 50% real property and 85% personal property will be awarded over ten years, with two potential extensions of five years each conditioned on additional development expenditures by Microsoft. Incentive grants will be awarded only following the proof of performance requirements standard for any Catawba County investment and are safeguarded by clawbacks as required under North Carolina general statute and Catawba County practice.
About Microsoft
Microsoft (Nasdaq "MSFT" @microsoft) enables digital transformation for the era of an intelligent cloud and an intelligent edge. Its mission is to empower every person and every organization on the planet to achieve more.
# # #
Media Contacts:
Scott Millar, Catawba County Economic Development Corporation
(828) 267-1564
smillar@catawbacountync.gov
Amy McCauley, Catawba County
(828) 465-8464
amccauley@catawbacountync.gov
WE Communications or Microsoft Media Relations
425-638-7777
rapidresponse@we-worldwide.com