CommScope Celebrates 40th Anniversary, $860M Yearly Local Impact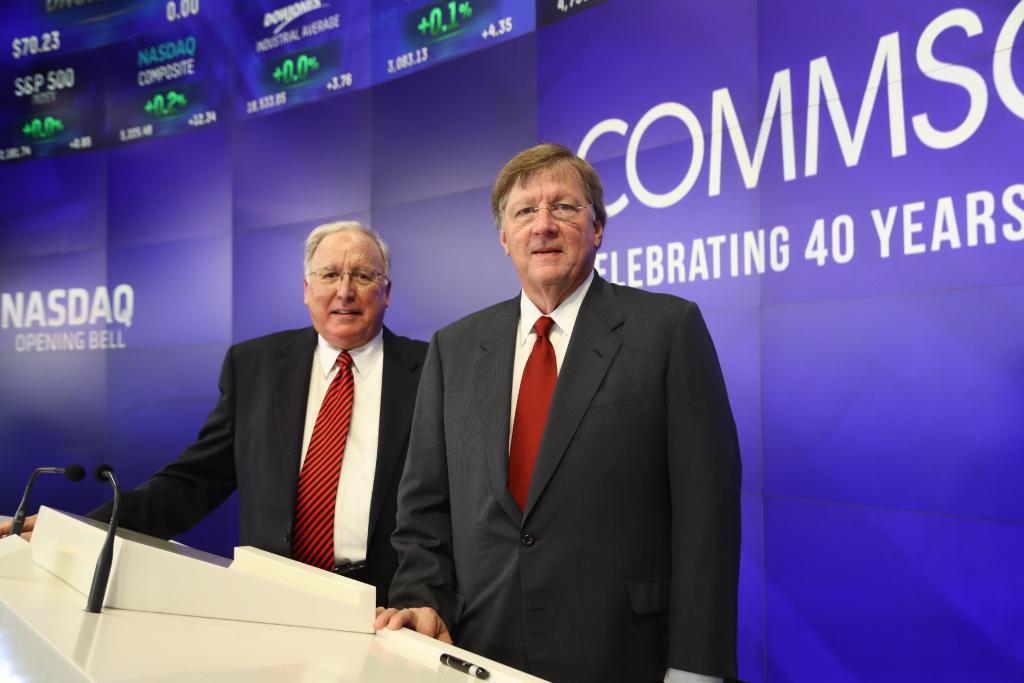 August 16, 2016
For Immediate Release
For more information contact:
Scott Millar, President
Catawba County Economic Development Corporation
828-267-1564
HICKORY– With the push of a button, Eddie Edwards, president and chief executive officer, and Frank Drendel, co-founder and chairman of CommScope recently rang the opening bell at the NASDAQ market in celebration of CommScope's 40th anniversary.  As confetti fell upon Edwards, Drendel and a small, smiling contingent of CommScope employees also in attendance, hundreds of other CommScope employees watched from the company's global headquarters in Hickory or from manufacturing facilities in Claremont and Catawba. 
CommScope currently employs more than 1,600 in Catawba County between its headquarters, production facilities and trucking operations.   These jobs translate to a tremendous economic impact within our community – $860 million annually in Catawba County alone.  Additionally, an economic impact analysis indicates CommScope's 1,600 Catawba County-based jobs support an additional 1,700 jobs in the County either through local suppliers supporting CommScope's product line or employees spending wages at local restaurants, car dealerships or purchasing other local services. 
It is remarkable that this global telecommunications leader and local economic engine emerged from a former Superior Continental Cable division ("CommScope") that was losing more than $500,000 a year (today's equivalent to more than $2 million).  Yet, in 1976 entrepreneurs Frank Drendel and Jearld Leonhardt, with the additional financial backing of other Hickory-area visionaries, took a significant risk to buy the CommScope division for $5.1 million.  It only took one year for the fledgling company, operating out of an abandoned plywood plant in the Sherrills Ford area, to turn the losing venture profitable with $14 million in sales.  This was the beginning of one of Catawba County's greatest economic successes.
The economic and technological landscape of today bears little resemblance to that of 40 years ago.  CommScope has been present for the advent and growth of cable television in the 1970s and 80s, the Internet and the development of e-commerce throughout the turn of the 21st century and most recently the explosion of data and applications from wirelessly connected devices.  CommScope has evolved with these technological innovations through new product development and/or timely acquisitions and often has been a catalyst driving this evolution within modern telecommunications.  At the same time, networks are now increasingly global and CommScope has grown toprovide the solutions for the most advanced cellular, broadband and wireless networks in more than 100 countries.
With the company's remarkable growth of products and technologies, our community has been the ultimate beneficiary for 40 years.  From an initial 158 employees in 1976, CommScope is the now 15th largest employer in the state with nearly 2,000 employees and $1.14 billion in annual economic impact.  On a global scale, CommScope has more than doubled in size just over the last year with the additional acquisition of TE Connectivity's Telecom, Enterprise and Wireless businesses, growing CommScope's global workforce from 13,000 in 2015 to 25,000 today. 
###
SEE ADDITIONAL COVERAGE:
CommScope celebrates 40th anniversary, $860M yearly local impact (Charlotte Business Journal)