CommScope and von Drehle Corporation Recognized for Their Contributions to Hickory and Catawba County
For Immediate Release:
For more information contact:
Scott Millar, President
Catawba County Economic Development Corporation
828‐267‐1564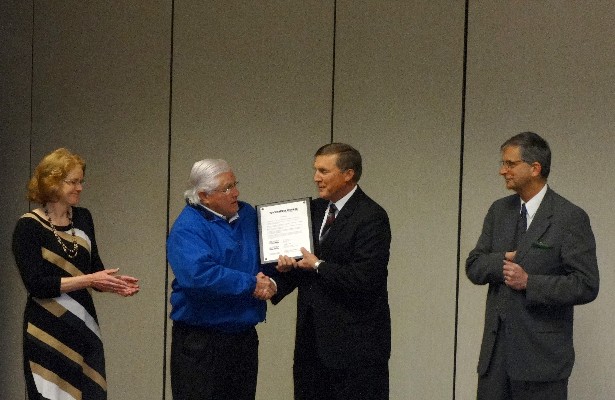 HICKORY, NC – CommScope, Inc. and the von Drehle Corporation were recognized at the Catawba County Economic Development Corporation's meeting on February 16th. A representative from each company was presented with a framed joint resolution from the EDC Board, the City of Hickory and Catawba County recognizing and acknowledging their contributions to the economy of Catawba County. Catawba County Commission Chair Randy Isenhower and City of Hickory Mayor Rudy Wright made the presentations.
CommScope, Inc., headquartered in Hickory since 1976, recently agreed to acquire TE Connectivity's Telecom, Enterprise and Wireless businesses in an all‐cash transaction valued at approximately $3 billion. The acquisition will add an expected 10,000 employees and 65 facilities to CommScope.
The von Drehle Corporation, headquartered in Hickory since 1974, recently began construction on a $100 million paper machine facility at the former Mississippi River Pulp facility in Natchez, Mississippi. The paper machine will be the first of its kind in North America and will be capable of producing 30,000 tons annually.
In a joint statement, Chairman Isenhower and Mayor Wright said, "We are pleased to recognize the contributions that these companies have made on a national and international scale. We are proud of the way they represent Hickory and Catawba County and are thankful for the contributions they have made as outstanding corporate citizens."