Century Furniture buys Hancock and Moore
Acquisition expected to enhance existing strengths
By RICHARD GOULD rgould@hickoryrecord.com Hickory Daily Record
Posted: Wednesday, April 29, 2015 5:00 am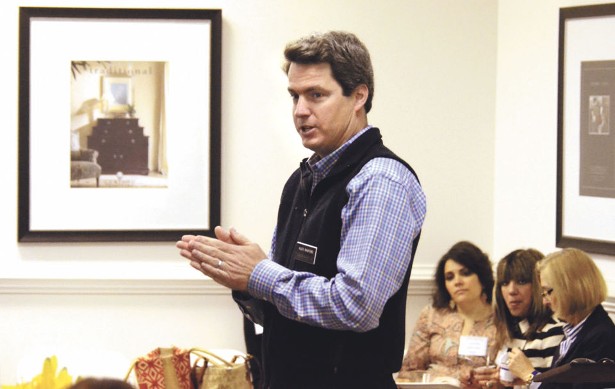 HICKORY, N.C. – There's no shortage of pundits who fret that manufacturing is going away and moan that furniture's dying – but the story on the ground at a furniture company in northwest Hickory is a welcome burst of good news.
That's where the president of Shuford Furniture, Alex Shuford III, 42, announced the acquisition of the Taylorsville-based Hancock and Moore. It's a deal that brings commercial furniture maker Cabot Wrenn and upscale chair maker Jessica Charles into the Century family as well.
"The purchase will be complete in the summer," Shuford said. "We started talking in earnest about this move in November just before Thanksgiving."
Hancock and Moore CEO Jack Glasheen and Vice President Jimmy Moore will remain at the company to run its day-to-day operations and the workers on the factory floor will notice very little difference following the acquisition, Shuford said.
"Technically it's an acquisition, but we consider it more like a marriage," Shuford said. "It's a great move for the Catawba and Alexander County areas. Two strong companies are coming together to become stronger and more valuable."
They're going to use scale to make certain parts of the combined businesses more efficient and resilient.
"We're two great high-end companies getting together at the high end of the marketplace," said Hancock and Moore Vice President Jimmy Moore. "I don't see how it cannot help these companies grow and make themselves stronger."
"This is a very talked about deal in the industry – it's the classic one-plus-one-equals-three story," added Shuford.
Century has almost 900 employees and Hancock and Moore has about 500.
"Hancock and Moore is the finest leather manufacturer in the country if not the world – bar none," Shuford said. "They've already won the race – everyone else is in fourth place."
There's excitement on both sides of the deal.
"We're niche players," Glasheen said. "We specialize in leather and little chairs – our catalogue will make a nice addition to their offerings."
As for the people on the factory floor, Shuford suspects they won't notice much difference in their day-to-day operations.
"We hope there is a little to no change whatsoever to the way this company is run," he said. "These guys (Glasheen and Moore) will continue to run their company. It's an extremely healthy business."
The companies expect a smooth transition due in large part to their extensive similarities.
"They've got this company with, similar to ours, with multigenerational employees and people who love what they do," Shuford said. "We've got to do no harm there – Hancock and Moore – they're not broken and we're not fixing them."
Two years ago Alex Shuford III, his father and his siblings came together to consolidate ownership of Century Furniture from the broader family.
"We doubled down in furniture in large part because we really enjoy the business," he said. "It's very much a family business around here."
As Shuford looks to his company's future he's got one thing on his mind: a skilled and professional labor force. Century's factory workers often spend decades in the business and the company often celebrates 20, 30 and 40-year anniversaries. Last week they celebrated a 50-year anniversary. On the one hand that means they've got a loyal and enduring workforce. On the other hand that workforce is aging.
He's looking toward today's high school students.
"There's this feeling about manufacturing. These are very progressive high tech furniture jobs – it's not like the old dusty factories of the old days," Shuford said. "People who get into this business can have a career for the rest of their lives."
Century's employees have had the kinds of careers Shuford wants to make attractive to today's generation of young workers.
"The country has a branding problem around manufacturing," he said. "We need to change minds because making things is cool – and this area can provide a very, very good life. Our employees, they do very well because craftspeople are in high demand."