Catawba County's ncDataCampus certified fiber ready
By Kevin Griffin kgriffin@hickoryrecord.com HICKORY DAILY RECORD
NEWTON - Catawba County's ncDataCampus was recognized as being AT&T fiber ready during the Catawba County Board of Commissioners meeting on Monday.
Kathleen Evans, AT&T's regional director of External Affairs for the Piedmont Triad, was present to give a statement and present copies of the certification to local leaders.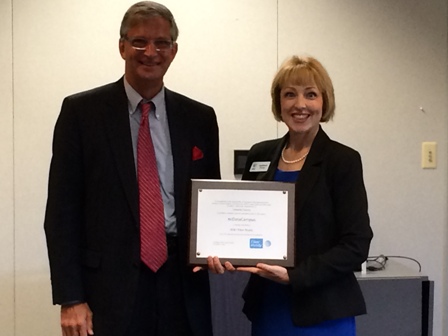 Evans spoke of the work she had done with local leaders, including Catawba County Economic Development Corporation President Scott Millar.
"Also with this designation, Mr. Millar and his team can confidently say that the local data campus has access to AT&T's world-class fiber networks," Evans said. "AT&T stands ready to meet the needs of businesses and help drive job creation in this community."
With the designation, the ncDataCampus becomes the first site in Catawba County to be certified fiber ready by AT&T.
Board Chairman Randy Isenhower and Conover City Manager Donald Duncan received copies of the certification from Evans.
Three other municipalities were also recognized for their efforts related to the ncDataCampus: Hickory, Catawba and Maiden.
Representatives from the municipalities weren't present to accept the certification copies.
Other business at the meeting included:
The commission issued a proclamation designating November as "Hospice and Palliative Care" month. The proclamation commended the work of area hospices, including Catawba Regional Hospice and Life Transitions Palliative Care.
Acceptance of and $18,645 grant from the U.S. Department of Justice to cover medical costs for incarcerated undocumented immigrants. The grant money reflects the undocumented immigrants held in the Newton Detention Center, as well as some in the Burke Catawba District Confinement Facility, during the 2014-15 fiscal year. There are no required matching funds from the county.
Approval of a $763,008 purchase of a Catepillar D89 Dozer-Waste Handler for use in the county's Municipal Solid Waste landfill. The machine will replace a 2000 John Deere 850C Crawler Dozer, which has experienced multiple technical issues, including transmission failure.
Authorization for Isenhower to sign a "Notice of Residual Petroleum." The notice concerns a June 2000 case in which a small leak was found after a 20,000-gallon underground fuel tank was moved on the premises of Catawba Valley Medical Center. Tests showed the leak to have no effect on groundwater. The contaminated soil remains in place with a concrete slab covering it, an arrangement which was approved by the North Carolina Division of Environment and Natural Resources.

The notice is required by the N.C. Division of Environmental Quality.