Appalachian State opens Hickory campus for first day of classes
by Sarah Johnson, Hickory Daily Record
Click here for the original article and additonal video from the Hickory Daily Record.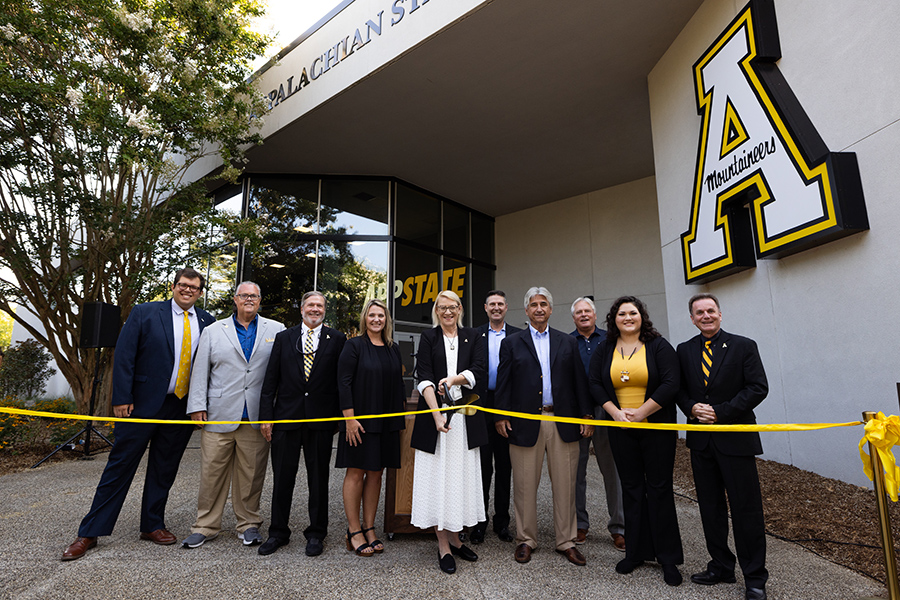 Appalachian State University welcomed its first students to the Hickory campus on Monday.
Among the inaugural Hickory class was communication sciences and disorders major Ashlynn Caudill. Caudill is from Lincolnton. Caudill has wanted to attend Appalachian State University since she was 9 years old, she said during her speech at the ribbon-cutting for the Hickory campus.
Caudill said she did not apply to Appalachian State initially because she did not want to be 90 minutes away from home.
Caudill found out about the new Hickory campus through an email, which she said she originally thought was a hoax. When Caudill realized it was legitimate, she attended an open house and applied. Caudill said she cried when she got accepted.
"One hundred twenty-four years ago, three founders had a dream and today their dream is helping me achieve my dream," Caudill said. "My dream is to be a Mountaineer, not a Boone Mountaineer, but for me, even better, a Hickory Mountaineer."
To celebrate the first day, Appalachian State University Chancellor Sheri Everts, Hickory Mayor Hank Guess and Caudill rang a bell. The bell is a long-standing tradition of the school. It rings on the first day of classes and at graduations, Everts said.
"In 1899, the Doughertys (the university's founders) called students to classes with the ringing of a bell that was housed in a steeple of what was then the Watauga Academy," Everts said. "Today, we honor our founders' vision with a new founders' bell that Hickory Mountaineers will ring as they take their place in App State history."
Before Appalachian State University opened the Hickory campus, the Hickory-Lenoir-Morganton metropolitan area was the largest in North Carolina without a public university, according to the university.
"App State's founders B.B., D.D. and Lillie Shull Dougherty had an ambitious vision to increase access to higher education in the most rural mountain areas of western North Carolina," Everts said. "I often wonder what would our founders think if they could see the App State of today with more than 20,000 students, top graduation rates and a national reputation for innovation and undergraduate teaching excellence. Today, we honor their vision and continue our trajectory of excellence by opening the App State Hickory campus."
Everts said this campus is a benefit to students who want to be Mountaineers but need to stay close to home and work while attending classes. Students will be able to earn a full four-year degree at the Hickory campus, Everts said. The university is offering more than 100 undergraduate programs at the Hickory campus.
Everts said an important aspect for Hickory students is that the education is affordable. Annual tuition, along with fees, is slightly more than $8,000. Students that are attending the Hickory campus do not have to pay for room and board, which typically adds more than $11,000 per year to college costs, according to the university's website.
The university offered a $2,000 scholarship to every Hickory student enrolled in the 2023-24 school year as well, Everts said. The university will not release official enrollment numbers until Sept. 1. Student capacity for the Hickory campus is 300-500 students.
The new Hickory campus is in the former Corning Optical Communications building on U.S. 321. The university purchased the building on Nov. 19, 2021, for $1 million. Everts said the N.C. General Assembly allotted $9 million in initial funding for the renovations to the building.
The building is 225,800 square feet, which is larger than any building on the Boone campus, according to the university. Approximately 50 faculty and staff members are working at the Hickory campus.
The renovations included technology upgrades, a library, a new HVAC system, an energy-efficient roof and replacing the lighting system with LED fixtures. Associate Vice Chancellor of Facilities Management Nick Katers said the ground, first and fifth floors are currently in use. The fifth floor is being used for administration and the first floor is where the classrooms and library are located.