Our 2021 Annual Meeting was held on July 21, 2021. Our guest speaker was Ron Hetrick, Director of Staffing Produect and Data for Emsi. Mr. Hetrick is co-author of "The Demograhic Drought: How the approaching sansdemic will transform the labor market for the rest of our lives", which you can download by clicking the title, or the image below.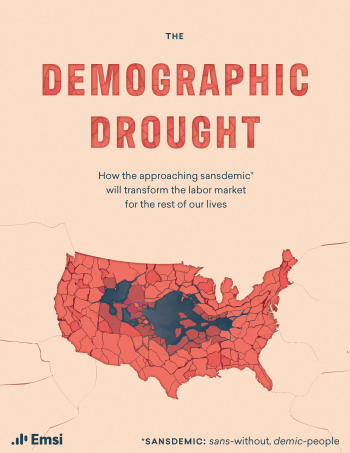 About "The Demographic Drought"
The US is suffering the beginning stages of a sansdemic: a lack of people to do all the work that needs to be done. Between 2011 and 2021, nearly every county in the US saw declines in its working-age population. The 2020 census shows that 16 states saw net population decline over the past years—the worst numbers since the Great Depression.
The people shortage is only projected to get worse. So how did we get here? What are the economic ramifications? And is there anything we can do about it?
The Demographic Drought answers these questions by analyzing past, present, and future workforces. From baby boomers to millennials to the 2020 Baby Bust, we track the rise and fall of America's population and labor force participation rate. We also outline how employers and higher ed institutions can survive the sansdemic when it hits in force.
Recording of the Catawba EDC 2021 Virtual Annual Meeting